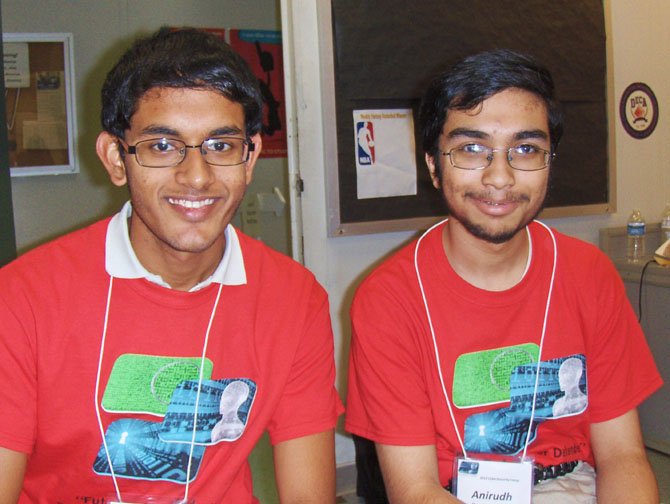 Chantilly — In May, The Chantilly Academy was officially designated by the Virginia Board of Education as Chantilly Academy – A Governor's STEM Academy. It still provides students with career and technical education, but with an added focus on STEM (science, technology, engineering and math) subjects.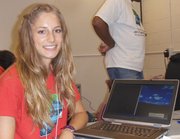 Accordingly one of the new offerings this school year is a course called Information Technology-Cybersecurity; and before school started, students got a taste of what's in store for them. One of Chantilly High's business partners, Northrop Grumman Information Systems, partnered with the academy and held a Cybersecurity Camp at the school.
"Northrop Grumman is the largest cybersecurity provider to the federal government," said corporate spokeswoman Marynoele Benson. And the company sent instructors to Chantilly to develop the camp's curriculum, teach the classes and run the challenges.
"It's about network defense, for kids to understand how their computers can be infiltrated and how to protect against it," said Benson. "This is all about building tomorrow's cyber defenders, and that's why we teach cyber ethics so they act ethically on the Internet."
And someday, she said, "They can use this knowledge to go out and get a great job with industry, the Department of Defense or the federal government. This area is so rife with these kinds of positions that this is what we want to groom students for — to secure America and its networks. This is a small step in a bigger effort."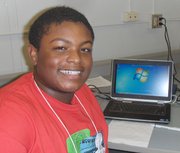 According to a study released by the Center for Strategic and International Studies, America not only has "a shortage of the highly technically skilled people required to operate and support systems already deployed, but also an even more desperate shortage of people who can design secure systems, write safe computer code and create the ever more sophisticated tools needed to prevent, detect, mitigate and reconstitute from damage due to system failures and malicious acts."

So Benson said it's crucial to teach this knowledge now because it's predicted that the U.S. will eventually need between 10,000 and 30,000 cyber defenders to adequately protect and defend its systems.
During the weeklong camp in August, students learned how to keep their networks safe from intruders, recognize an intrusion, discover where they need patches and detect vulnerabilities and malware in their systems, as well as basic cybersecurity fundamentals.
Some 70 students from 20 different high schools throughout Fairfax County participated; and at week's end, two teams competed in a cybersecurity grand challenge. They also received information about cybersecurity internships and careers.
Chantilly senior Revanth Kolli and junior Anirudh Bagde were among them. "I've always been interested in technology and took AP computer science, so I was interested in cybersecurity, too," said Kolli.
Bagde was in the Air Force Association's national CyberPatriot competition, earlier this year. It's sponsored by the Northrop Grumman Foundation, which presented more than $50,000 in scholarships to students on the winning teams.
World Awaits Cybersecurity Experts
Northrop Grumman cybersecurity employee Lu Goon had the idea to hold a cybersecurity camp at Chantilly Academy – A Governor's STEM Academy. And Joan Ozdogan, the academy's career experience specialist, made it happen.
Goon also mentors students in the CyberPatriot competition and, he said, "We found that just doing Saturday practices for it wasn't enough to prepare the kids as well as we wanted to. So I saw this as a great opportunity to help them."
He said Chantilly's camp gets students interested in IT (information technology) and gives them another skill set to add to their portfolios, no matter what computer career path they ultimately choose. Learning cybersecurity is critically important, said Goon, because "In all instances of technical skills, the U.S. is falling behind. And someone's career can be defined by participating in these technical programs."
Lynn Gilmore, Northrop Grumman's director of Corporate Citizenship, noted that the company has a paid internship program for students on high-school CyberPatriot teams. At least four Chantilly High students have gone through it, and two of them worked for Northrop Grumman last summer and returned. So there's a direct link between what they learn and their future employment. They're learning real-world skills they can apply immediately.
Pleased with the successful business partnership between the company and the school, Ozdogan said, "I want to recognize Northrop Grumman Information Systems for their cyber academy's gift of time, talents and expertise as instructors for the Cybersecurity Camp."
"In our new role as a Governor's STEM Academy, the Chantilly Academy is launching an expanded IT program that includes cybersecurity," she continued. "So students will be able to build on what they learned at the camp in their academy classes."
Stressing that cybersecurity professionals are in great demand in this region's workforce and across the country, Ozdogan said the cybersecurity programs at both NOVA and GMU are outstanding. So, she said, "Our students can start here, go on to NOVA and GMU and realize successful, productive careers in cybersecurity."
For more information about the Chantilly Academy's STEM programs, contact Ozdogan at 703-222-7464 or jeozdogan@fcps.edu.
"We had to defend operating systems while other people were hacking them and find vulnerabilities and fix them," he said. "So everything we learned got me interested in cybersecurity." He then spoke with Joan Ozdogan, the Chantilly Academy's career experience specialist. Said Bagde: "She told me about the new classes here, and I thought this would help me find a job in the future."
Kolli also likes computer engineering and sees the connection between it and cybersecurity. "If I'm writing code, cybersecurity is a priority to learn now," he said. "In camp, they gave us a vulnerable computer operating system with viruses in it, so I used the tools I learned in the classes to detect and figure out what to do with them."
One of them was NMAP. "It's a remote tool for scanning networks and finding programs opening back doors into the operating system," said Bagde. "We had to install antivirus software like Malware Bytes, and we also used regular tools that Microsoft already comes with, like Command Prompt and Control Panel."
He said the camp was valuable because "As our world becomes more immersed in the Internet and Cloud technology, computers become a bigger target for people wanting to steal information. So cybersecurity jobs are becoming more important as the hackers become more intelligent."
"I'd definitely recommend cybersecurity classes," added Kolli. "Even if you're not going into this field, it's important to know how to create good passwords and protect yourself from hackers."
Chantilly junior Caroline Manik, however, came to the camp because her mom signed her up. "I never really thought about anything with computers until now," she said. "It's been really interesting; I've learned a lot about how to find root kits — similar to back doors that hackers set up to get into your computer — and various commands to block them."
She said the knowledge will help her keep hers and her family's computers safe because "I honestly didn't know anything about this before. So this is helpful if you want to protect what's on a computer."
Westfield High sophomore Mohamed Robertson also attended on his mom's suggestion and was glad he did. "It was pretty fun," he said. "We learned about programs that hack Windows users' passwords. To prevent it from happening, you can install firewalls, change your password frequently, install the latest security and update your Windows Defender."
"Now I can help my cousin or brother in case their computers get hacked or get a virus," continued Robertson. "The world we live in isn't a safe place; there are lots of people who want to break the law or do unsafe things. So it benefits us to work together and help prevent that."