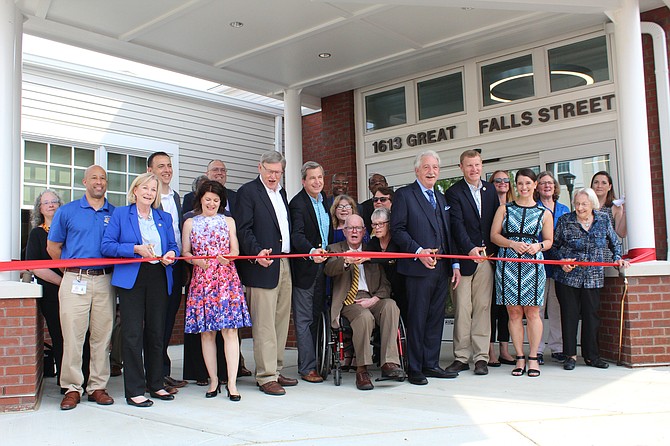 On Saturday, June 1, Fairfax County celebrated the grand opening of Phase Two of the Lewinsville Center, an intergenerational facility that houses the Lewinsville Senior Center; Adult Day Health Care Center; and two child day care centers, Westgate Child Center and Lewinsville Montessori School. The Lewinsville Center is located at 1613 Great Falls Street in McLean.
The event was attended by John Foust, Dranesville District Supervisor; Jeff McKay, Lee District Supervisor; State Sen. Barbara Favola; Delegates Kathleen Murphy, Richard "Rip" Sullivan and Marcus Simon; Fairfax County Executive Bryan Hill as well as other County officials, civic leaders, neighbors and users of the facilities.
The 8.66-acre site of the Lewinsville Center Campus at one time housed an elementary school that was constructed in 1961. In 1994, the County approved a Special Exception that permitted a 22-bed independent living facility, a senior center providing activities for up to 50 adults, an adult day care center for up to 40 adults, child care for up to 210 children, and an athletic area with a rectangular field and a diamond. In 2004, the County approved a Special Exception Amendment which would have maintained those uses and added a 60-unit assisted living facility; however, progress on the initiative stalled because of the economic infeasibility of constructing assisted living units.

In March 2015, Supervisor Foust obtained approval from the Board of Supervisors for a comprehensive agreement to demolish the existing building and redevelop the facility through a creative private-public partnership with Wesley Hamel Lewinsville LLC. Under the partnership, independent living units, instead of assisted living units, would be constructed. In October 2018, the first phase of the project, The Fallstead, opened as an 82-unit independent living residence for low-income seniors. Today, 102 people reside in The Fallstead.
The new 7,500 square-foot Senior Center is more than twice the size of the original center. It features a fitness room, technology access, and spacious gathering places for adults 50 and over to pursue fitness goals, take up new hobbies, and socialize. The Lewinsville Adult Day Health Care has specially designed features for memory care, including a gated, outdoor garden with a fountain, an indoor walking path, library, health clinic, and art room. The Lewinsville Montessori School and Westgate Child Care Center will now offer larger and more colorful spaces for children to play and learn.
Supervisor Foust said, "This is a great day for people of all ages in McLean and Fairfax County. I am very pleased that The Fallstead apartments and the Lewinsville Center bring together young and old in a safe and attractive environment where they will learn, live, recreate and enjoy a variety of activities."