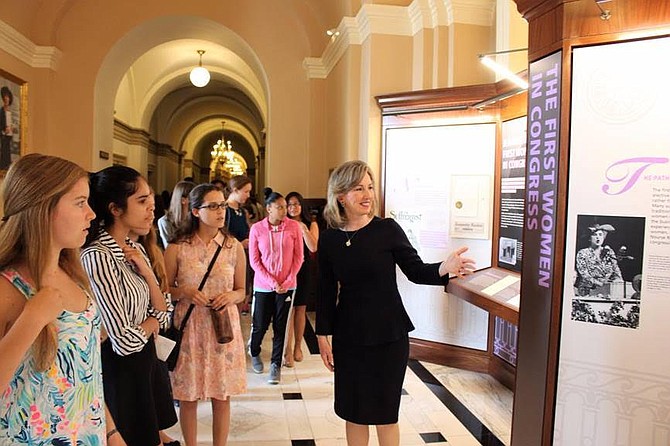 The Summer 2019 session of the "Young Women's Leadership Program," founded and led by former Virginia Congresswoman Barbara Comstock, is accepting applications from middle and high school girls. There is no charge to participate.
Nearly 2,000 young women from across the country have participated in the six-year-old, non-partisan program that introduces them to women in leadership positions in government, technology, philanthropy, business, and other fields.

The application deadline is June 18, 2019. Applications may be made at https://comstockleadership.gmu.edu/apply-now/

This is the first year the "Young Women Leadership Program" has been hosted at the Schar School of Policy and Government at George Mason University. Comstock, who represented Virginia's 10th District for two terms, created the program when she was a member of the Virginia House of Delegates as a way to give young women opportunities to meet women in established leadership positions. "If you can see it, you can be it," Comstock said of the idea behind the program.
"The Schar School is proud to now host this successful program that inspires young women to become future leaders in the Commonwealth and the nation," said Schar School Dean Mark J. Rozell.
"This non-partisan, career-oriented program is designed to teach young women about leadership and the wide range of careers they may pursue in government or the private sector," said Comstock. "I am thrilled that we can continue this program that we started six years ago and continue to inspire the next generation of female leaders to bring their intelligence, drive, and solutions to their chosen professions."
Comstock said the summer session kicks off in June at the Capitol Building in Washington, D.C., with an overview of women in elected office. Throughout the summer, the participants will have opportunities to participate in six to eight seminars that will introduce them to women leaders in a variety of careers in the public and private sectors.
For more information about the program, see the website at comstockleadership.gmu.edu.
For those interested in donating to this non-profit program, see the website at: comstockleadership.gmu.edu/donate.