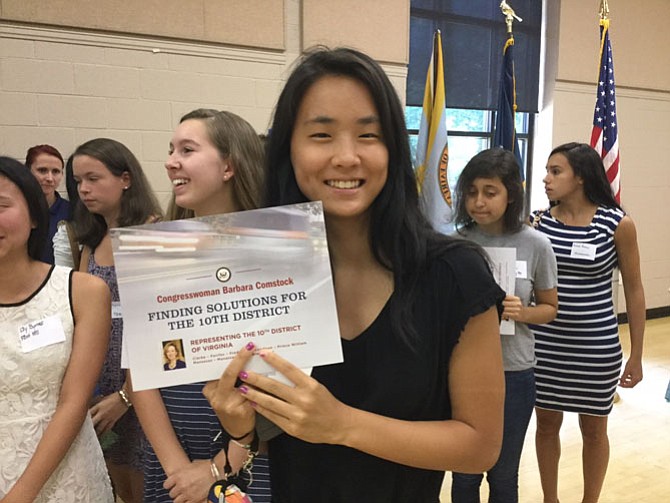 The energy and excitement coming from nearly 300 young women packed into the McLean Community Center is palpable – and very loud.
Although most of the girls are not old enough to vote, they are clearly excited to meet Congresswoman Barbara Comstock [R-10].
Comstock, a freshman Republican lawmaker who is currently in the midst of running a reelection campaign to retain her seat in the 10th district, founded the "10th Congressional District Young Women Leadership Program," in 2013. The program, which runs throughout the summer, gives middle and high school students throughout Northern Virginia the opportunity to meet and interact with women who hold leadership roles in government, business, medicine, media relations, and other professions.
Today's program focused on women who are "First Responders," and included Fairfax County Sheriff Stacey Kincaid, the first woman to hold the position of sheriff in Virginia.
Gabby Sutton, 17, a rising senior at Langley High School in McLean, is standing in line with dozens of other participants to meet the woman she calls her "inspiration and mentor."
"She (Congresswoman Comstock) was actually the inspiration to start my non-profit – Things that Matter. You would not believe how many really influential women I've met this summer through this program," Sutton said, "Having all these local connections has been incredibly valuable in starting my non-profit," Sutton said.
AS PROOF, Sutton pulls out dozens of business cards from some of Northern Virginia's most influential women, including Sheila Johnson, co-founder of BET and the first African-American woman to attain a new worth of more than one billion dollars.
"I can't believe I got the chance to meet her," Sutton said. "I called her office, and I actually talked to her, and she is going to speak at an event for my non-profit…it's pretty amazing," Sutton said.
She added that the program has given her a better understanding of leadership. "The women leaders we've met are fearless…To me, leadership means three words: Yes, I Can!"
Empowering young women to believe they can lead is exactly the message Comstock [R-10] wants to impart.
As one of just 104 women members of the 535 members who make up the current U.S. Congress, Comstock is aware that not enough women hold senior leadership positions - whether it's in politics, business, law or medicine or the military. She wants to help shift that landscape through her leadership program.
"I want to provide young women the opportunity to take advantage of all the resources available to them," Comstock said.
Comstock said she was inspired to establish Young Women's Leadership Program in January 2013 after reading Sheryl Sandberg's popular book "Lean In: Women, Work, and the Will to Lead."
In her book, Sandberg, the chief operating officer of Facebook, advises women to seek mentors in the workplace and be more assertive with respect to their careers.
Since Comstock launched her leadership program, more than 600 young women throughout McLean, Great Falls, Vienna and Loudoun County have participated, meeting professional women such as Donna Brazile, CNN political commentator and Democratic strategist; Erin Egan, chief privacy officer for Facebook, and Bobbie Kilberg, President and CEO of the Northern Virginia Technology Council.
The participants - middle and high school students – have had the opportunity to attend sessions on Capitol Hill, and meet and interact with women who hold leadership roles in government, business, medicine, media relations, and other professions.
Rachel Nelson, 16, a Fairfax Station resident and rising junior at Robinson High School, attended the program with her mom, Christine.
"She has given these girls an absolutely incredible opportunity," Christine Nelson said. "Every time Rachel comes from one of these programs, she is so inspired and optimistic that it makes me want to attend."
After the nearly two-hour "First Responder" event last Wednesday, Comstock stayed behind to personally greet any young woman who wanted to meet and get a photo taken with congresswoman Comstock.
COMSTOCK said a common theme she hears from women leaders who participate in the program is "don't wait for someone to ask you to the prom, so to speak, jump in. Don't wait for someone to ask you to apply for something you want. Just go for it."
Comstock said she was lucky to grow up surrounded by strong women.
"I think of my grandfather, who had four girls. He was a real feminist," she said, smiling. "I remember him telling us 'Don't let any man keep you down. You can do anything if you work hard enough.' He lived through the Depression, and was a very proud man. He was never able to go to college, but he was the smartest man I knew."
The program was "incredible and unforgettable" said Danielle Hayden, a junior at Potomac Falls High School in Sterling. "This program reassured me that there is opportunity everywhere you go in many fields, whether it is government service, running a small business or working for a government agency like NASA."
"I would emphatically encourage young women across the district to take part in this…"Sutton said. "Not only do you learn networking, communication and skills needed in the professional world, you are simultaneously being nurtured and inspired to find your own calling and pave your own path in life."
"I am really happy to hear that," Comstock said, patting Sutton on the shoulder before posing with her for photos.
To learn more about the program, go to https://comstock.house.gov/services/young-women-leadership-program-application.