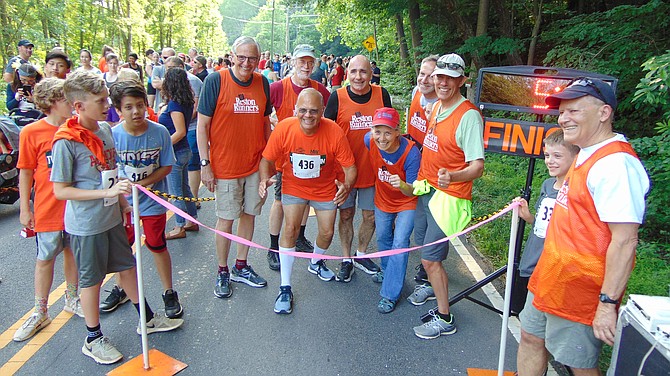 Call it a Clifton tradition. About 300 runners participated in the 22nd Annual Clifton Caboose Twilight 5K and 1-Mile Fun Run/Walk held Saturday June 1, 2019. The money raised, between $5,000-$6,000, goes to the Clifton Betterment Association, which managed the race.
The first-place winner of the 5K run was Gavin Camby, 20, of Fairfax Station, with a time of 17.15. Ellen Brosh, 35, of Fredericksburg was the first-place female runner with a time of 21.06. And Petra Gruendel, 9, of Clifton placed first in the 1-mile fun run with a time of 6:40.
According to Gary Anderson, Race Organizer: "It really does bring the community together. Every year there are countless people who know exactly what they need to do, and it all comes together and we see a lot of the same people here every year – kids who grew up doing the one-mile, now they're doing the 5K. It's a great event. We hope to keep doing it for a long time."
Added Michelle Stein, President of the Clifton Betterment Association: "This is an amazing tradition in Clifton; it's especially wonderful to see the small kids run. We had three 4-year-olds running this year, which is an amazing thing. I love the fact that the kids get involved in this so early and they run for many, many years."
To see the complete list of runners and their times, visit www.RestonRunners.org.