"They don't tell you when you run for student body president that only the senior class president gets to speak at graduation. …Turns out, I had to wait a decade and a half, and run for County Council, just to speak at Churchill graduation." — Andrew Friedson, Potomac's County Councilmember, speaking at Churchill's graduation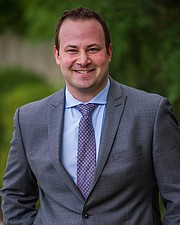 Name: Andrew Friedson
Member, Montgomery County Council representing District 1
Party affiliation: Democrat
Age: 33
Residence: Bethesda
Currently reading: Barn Burning Barn Building: Tales of a Political Life from LBJ to George W. Bush and Beyond by Ben Barnes
Sports and hobbies: still plays in men's [ice] hockey league, enjoys golf and hiking the Billy Goat Trail
Interesting fact: I am the youngest council member ever elected to the council and I represent the oldest demographic.
Andrew Friedson was elected to the Montgomery County Council in November 2018 and seated at noon Dec. 3, 2018. But really, the Council member, representing District 1, which includes Potomac, has been representing Potomac causes since grade school.
Friedson is a life-long Democrat and District I resident. He attended Wayside Elementary School, Herbert Hoover Middle School and Winston Churchill High School before going to the University of Maryland, College Park.
He began his advocacy at Wayside while in fifth grade.
He wasn't happy with the safety of his bus ride, he said.
"The bus took a left turn onto Falls Road," he said. "I thought that was an unnecessary risk and that the bus should go back through the neighborhood and take a left onto Glen Road."
He said he asked several times for an appointment to discuss the idea with his principal but never got in. So, the bus continued making the left.
"Eventually there was a crash between the bus and a car at that left," he said.
The bus changed routes after that.
He said the lesson he learned was, "If you see something, say something."
His political "career" continued at Hoover and at Churchill where he was president of the student government.
Friedson said it was just something inside him: being of service and solving issues.
His campaign website said: "Public service has never been a career choice for Andrew. It's always been his calling."
At the University of Maryland Friedson studied political science, government and politics. He served as president of the Student Government and was named outstanding male graduate, receiving the H.C. Byrd Citizenship Award.
Friedson said he worked briefly on the Obama campaign and then ran the campaign of Peter Franchot who was running for Comptroller of Maryland. He later became Franchot's senior policy advisor.
He served as senior policy advisor, deputy chief of staff, and division director for the Comptroller of Maryland, reviewing government contracts to ensure transparency.
He was also appointed by Gov. Larry Hogan to the Maryland Small Business Financing Authority.
"In The summer of 2017, I decided to run for County Council," Friedson said. "I left my job and jumped in full time. The Council is a full-time job and I thought it needed a full-time campaign."
He came out on top in a crowded primary race of eight candidates, getting 28 percent of the vote.
"I took a risk," he said. "To me, public service requires personal sacrifice."
Now on the Council, Friedson serves on the Government Operations and Fiscal Policy Committee and Planning, Housing and Fiscal Policy Committee.
"We are at a crossroads in Montgomery County," Friedson said. "With the costs of keeping the high quality of life, the challenge is to meet those needs in an economy that isn't growing."
The solution, he said, starts and ends with growing the economy, thereby increasing the tax base.
He said he recognizes the problems of affordable housing, transportation and education.
"We solve the housing by building new housing and that is tied to transportation," he said.
As for education, he will work towards getting an increased share of state education appropriations.
In reference to Gov. Hogan's plan to add lanes to 495 and 270, Friedson said the County Council is in general agreement that "We want to focus on the American Legion Bridge and 270 as our first priority for traffic relief."
That includes public trust, he said, and the assurance that the county avoids "Lexus Lanes."
"We share the concerns of many about not taking park or private property," he said.
Overall the Council is going great, Friedson said.
"The best part is that we get along," he said. "We don't agree on every issue, but we work together for collaboration. It should be encouraging for the public to know we work together."