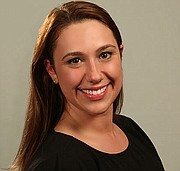 Centreville's Heidi Brown has been singing, dancing and performing since age 5. And she comes by her talent naturally, since her mom, Annie Ermlick, is a well-known veteran of many local, little-theater productions.
Now, Brown is a married mother of two, as well as a social studies teacher at Centreville High. She's also continued to perform, has directed and choreographed a number of community-theater shows and is about to release her first music CD.
Topping it all off, on Sunday, June 23, at 7:30 p.m., she'll be singing in a Musicale at the Cascades Overlook Event Center, 21453 Epicerie Plaza in Sterling. Tickets are $15 via https://www.grandermusic.com/events/.
"I'm so excited to start my summer off with the release of my CD, 'Waiting for a Moment,' at the Musicale," said Brown. "I think everyone, any age, will like this CD."
She said she's been through "significant life events that really link up with some of the songs. There are moments of happiness, of sadness, of 'What do I do next?' And there's also the closing of one chapter of your life and moving on to the next one, plus uncertainty. There are a lot of emotions, and I think people will be able to relate to them.
"Each of the songs will speak to you in a different way," continued Brown. "And I think that's really cool – as is having a variety of songs with varying themes and messages. Life's not perfect – it gets messy – but it's also awesome."
She sings under the Grander Music label, founded by former Centreville resident Don Halterman, who began the brand to make and promote music that's meaningful. And its two other principals, John Nixon and Kent Washburn, still live in Centreville.
In addition, Brown enjoys singing and performing in a mixed-Barbershop group called "Fantastic 4 Quartet," as well as with a chorus group named Bella Nova. She recently performed as part of a traditional Bavarian song-and-dance group called Alt-Washingtonia, as well as in "A Night of Grander Music" at the State Theatre in Falls Church.

"Her music reflects the diversity that is already part of who she is, both musically and in her life," said Nixon. "Her songs are inspirational, as well as reflective, sad and joyful."