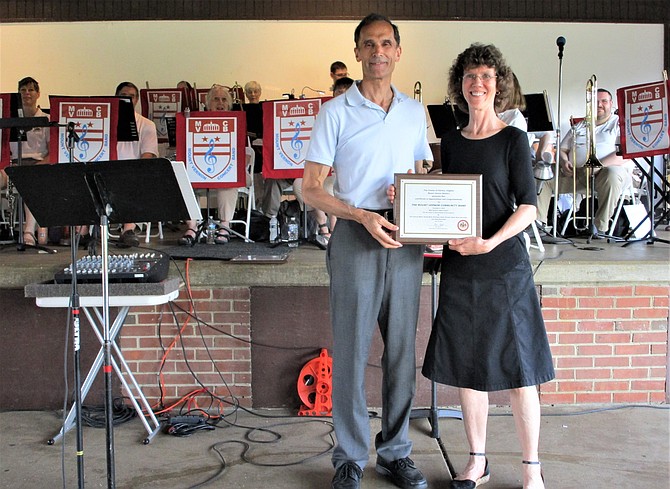 The Mount Vernon Community Band received a Certificate of Appreciation for its 40 years of outstanding performances by the Concert Band, Swing Band, Dixieland Band, German Band, Brass Ensemble and Flute Ensemble on Sunday, June 16.
MVCB's Concert Band was performing at the National Park Service's Summer Concert Series at Fort Hunt Park, where it received recognition from Mount Vernon District Supervisor Dan Storck.
At the concert, Owen Hammett was also honored by Storck with a Certificate of Appreciation. A part of the volunteer Mount Vernon Community Band for over 25 years, Hammett conducted the Swing Band, the Dixieland band, and sometimes the German Band and the Concert Band. He played the trombone and euphonium in all the Mount Vernon bands (Concert, Swing, German, Dixieland, and Brass). He has also been the band's logistics expert, manager, scheduler, promoter and announcer. In recent years, Hammett volunteered with the National Park Service by coordinating, recruiting, scheduling and setting up for the bands playing in the Fort Hunt Park Summer Concert series. He played in the volunteer Washington Redskins Band for 10 years. Owen's past musical resume includes: principal trombone in the University of Alabama Symphony, three years as a volunteer with the band of the Supreme Headquarters, Allied Powers Europe (SHAPE), leader of the Saint John's Brass Ensemble (Saint John's Cathedral, Izmir, Turkey). A native of Alabama, Hammett served in the U.S. Army, and worked as a civilian.
The Mount Vernon Community Band, founded in 1978, is a volunteer local group of musicians. Members include graduating high school students, former military musicians, college musicians, and other Mount Vernon area neighbors.

See www.mvbands.com/concert-band/.