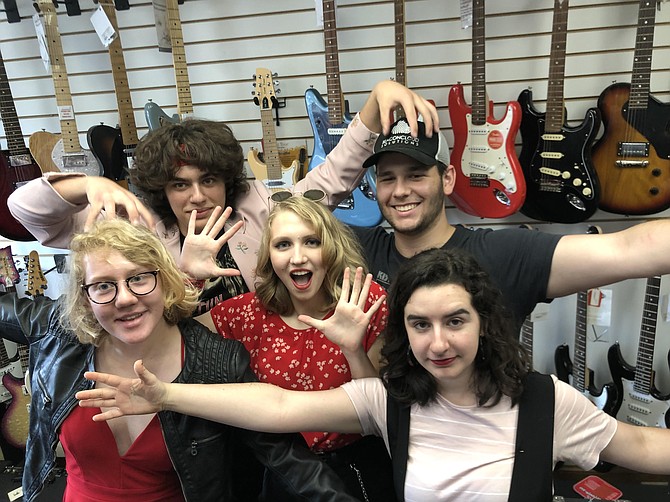 Pomegranates on Fire, a rock band made up of high school students from Robinson Secondary School and Colgan High School, recently won the battle of the bands in the Garage Band category during First Friday June at Harris Pavilion in Manassas. The students played a show the following day at the barn in Clifton to an energetic group of students and adults.
The event in Clifton started with an opening band from George Mason, Epitope. The trio warmed up the crowd and ended their crowd pleasing set with a mashup of the melody from Wham's "Careless Whisper" and lyrics from Smash Mouth's "All Star." It can only be called, Careless All Star.
Pomegranates took the stage like a band that just won an award to an enthusiastic crowd. The singer, Syd, has a strong sweet voice that is effective on angsty songs such as "Creep" by Radio Head and their original, "Emergency Zone." Other songs such as "Blitzgrieg Bop" by the Ramones and "Brand New Cadillac" by the Clash got the crowd dancing. The band kept the crowd excited for almost an hour and a half before ending the show at 9:30. Everyone was gone by 10 p.m.
Times change, today punk has become an acceptable form of expression. In this case, a wholesome choice of parents looking for a safe place for their kids.
There are five members Sydney Denardo (vocals), Abby Clark (bass), Marshall Lockey (guitar), Brock Flanders (guitar), and Terra RussekRobbins (drums) and they call their music pop punk. They practice about once a week in the "Sweets" or "Suites," the attic practice space attached to the bedroom of the drummer's home in Clifton.
The band has a gig at the Baltimore Sound Stage on June 30. This show presents a special problem for the band. How do you get your fans, most of which can't drive up to Baltimore? The inventive nature of this band solved the problem by renting a vehicle to bring their fans with them. In order to ensure a seat on the bus, contact @pomegranate.fire on Instagram and @pomegranatefire on Twitter. POF can also be contacted via Facebook. Tickets to the show are $10
Their biggest challengers coming on July 5 at the battle of the bands at Jammin Java in Vienna. Four days of preliminary battles against bands with more age and experience. If they can get enough fans to show up they may have a shot at the finals. Five bands will be chosen from the preliminaries to face the finals on Aug. 30.
"I hope we can just make it to the finals. I mean, I believe we could win but I am excited just to play," says Terra. They have received at lot of positive feedback, but do they have what it takes to be a finalist at the Mid Atlantic Band Battle? Come to Vienna and find out on July 5. Remember to shout, "Pomegranates on Fire!"