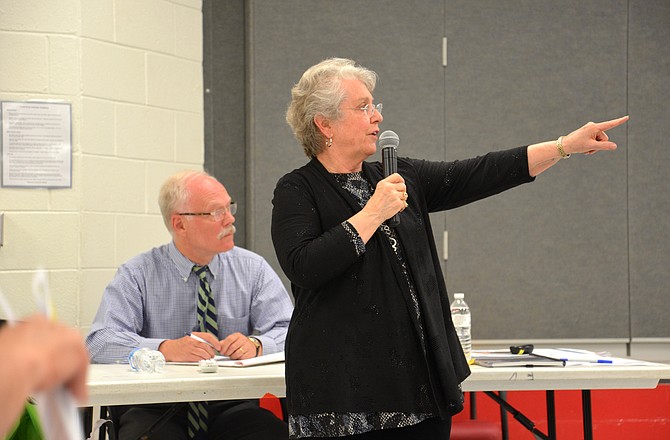 Retiring Fairfax County School Board member Jane Strauss, who represents the Dranesville District, had her hands full when she met with a standing-room-only crowd at Forestville Elementary in Great Falls on Wednesday night, June 19. The school cafeteria had been set to accommodate about 250 attendees, but before the 7:30 p.m. kick-off by Great Falls Citizens Association President Bill Canis, school staff had already added about 30 more chairs, and there were still attendees lined up along the walls, including Del. Kathleen Murphy (D-34), whose constituency includes Great Falls and McLean.
"We were pretty sure we would get a sizeable crowd," said Canis. "It's a hot topic in the community."
The subject matter that brought in the overflow audience was how the Fairfax County Public Schools (FCPS) Board was considering addressing school overcrowding in the county in general, but particularly at McLean High School, already at 115 percent capacity – and how any proposed solutions might affect Langley High School, which currently operates at less than 85 percent of its student capacity.
There were residents from both areas in attendance, interested to hear what Strauss had to say, and in some cases, looking to debate her remarks.
STRAUSS has supported a limited boundary study to move students from Longfellow Middle School and McLean High School to nearby Cooper Middle School and Langley High School in the Langley school pyramid, but noted that any changes would not be scheduled for implementation until the 2020 school year, allowing more time for planning and public engagement with parents.
Other school board members were less enthusiastic about the solution, cautioning against "spot boundary changes" rather than a study and a plan that took into account the capacity situations and projected enrollment trends for the entire county. Ultimately, the proposed changes were not included in the FCPS's adopted Capital Improvement Program (CIP).
The evening's two-hour planned agenda was slated to be about 50 percent a presentation by Strauss on the FCPS current CIP, including some background on the school system, the methodology on school constructions and improvement to existing facilities, and some of the state statutes and federal legislation that directs the FCPS activities, followed by an equal amount of Q & A time.
In addition to answering questions, Strauss said that she was also "here to listen" and added that public commentary during the second half of the session was more than welcome.
Getting to that organized public engagement portion of the program proved to be a bit problematic when halfway through her presentation, audience members began to call out questions and make comments.
Five minutes before the first outburst, Strauss had received hearty applause when she declared that "no one is being pushed out of Langley High School [to make room for students from overcrowded McLean]."
Internal facility improvements are the first line of combat against overcrowding, explained Strauss. Additional trailer-classrooms, while not ideal, and additions to existing buildings are then considered, if the first alternatives are not enough to mitigate the situation.
"The bricks and mortar solution is the last solution," she insisted, noting that "schools follow development, not the other way around." With the cost of a new school coming in at an estimated $170 million, excluding land costs, "building a new school is a last resort," a decision requiring years of in-depth study and planning and budgeting.
Strauss added that in her 26 years on the school board, including three terms as its Chair, she has never seen a new school that did not already have "full enrollment before the doors opened."
Soon after these comments, however, one audience member began to argue with the representative that the county's "One Fairfax" policy might harm communities like Great Falls, if the mission was to "simply diversify," and attempt to "fix failures in other school pyramids at our expense."
One Fairfax was adopted jointly by the Fairfax County Board of Supervisors and the FCPS Board in 2017, committing both boards to consider equity in decision-making and in the development and delivery of future policies, programs and services.
"You're retiring," shouted out one individual. "How can we even believe you? You have nothing to lose."
Some parents expressed concern that Langley students might be forced to move to other schools like Herndon High School. Strauss reiterated her statement that "no one is being asked to move from Langley, busing is not a consideration. Breaking up the school or busing students doesn't make any sense."
Strauss got the meeting back on track and finished her presentation, showing the audience how to track school metrics from academic performance to enrollment numbers and projections on the same into the future.
Even before she clicked off the PowerPoint, the line of people to ask questions and make comments had already formed.
One Fairfax came up again, almost immediately. Despite Strauss's earlier response, the one audience member wasn't ready to let go of the issue, telling the story of her own family's immigration to the United States, and asking why we should be asked to spend our resources on the education of the children of undocumented immigrants. Her remarks split the room – loudly – both in agreement and objection.
Strauss calmly answered that not only was it "the right thing to do" but it was a decision already decided on by the Supreme Court.
"It is our duty to provide equal educational opportunities to all children in our jurisdiction, regardless of any status or differences, religious, ethnic, gender, income, legal status, or ability." She added that the School Board was also specifically charged with doing nothing to create pockets of segregation along any of those lines.
A FEW OTHERS also voiced concerns that One Fairfax would be implemented to the benefit of some but the detriment of others.
Great Falls resident Margaret McCreary chastised Strauss and the school board for "discussing One Fairfax while neglecting education and other issues of importance." McCreary cited a school board meeting which she had viewed online where "there was no mention of academics. The only concern seemed to be about diversity."
The Fairfax County Board of Supervisors and School Board separately adopted the joint social and racial equity policy called One Fairfax in November 2017. "This joint policy commits both boards to consider equity in decision-making and in the development and delivery of future policies, programs, and services," says the FCPS website. "One Fairfax offers a framework to look intentionally, comprehensively, and systemically at barriers that may be creating gaps in opportunity."
The parent of a Forestville Elementary student, McCreary brought up statistics and concerns by law enforcement personnel about gang recruitment in Fairfax County schools. "Yet there was no mention of that in the meeting, nor any talk about the personal safety of our kids in school," she concluded to applause.
Several of the comments dealt with a proposed change to FCPS Policy 8130-7 – the regulation guiding the "closing or consolidation of school facilities, as well as adjustments of school attendance areas" and the engagement of the public in such decisions. Possible changes, meant to streamline the study of boundary changes and other improvements, had been discussed at an earlier board meeting, but the topic was shelved until a July meeting.
There was no coming to any terms of agreement on the subject between Strauss and those who questioned proposed "8130-9," with the board member continuing to respond that no changes had been made or even discussed, and the opponents insisting that she wasn't answering the question or being honest about the Board's intention.
Some of the objectors were referring to notes that had been offered by members of a group called One Great Falls. Their website asks for residents to sign a petition, created by Great Falls resident Lauren Shupp, in support of their mission:
"We want our school board and administration to recognize 'redistricting' pulls apart communities, causes real world negative impacts, and most importantly, leaves the underlying problems unsolved…
FCPS should drive precious resources into our schools. Do not waste these finite resources with bureaucratic attempts to hide weaker schools in the name of driving socio-economic diversity. Do the hard work. Fix the weaker schools instead of covering their issues with manipulated statistics…"
Did the meeting with Strauss alleviate any of their concerns? Reached for comment after the event, Laura Timmins responded on behalf of One Great Falls.
"Seems as if the FCPS Board is not being forthright about their plans to adjust school boundaries in the future. Ms. Strauss repeatedly either denied or downplayed any discussions until confronted with school board agendas, tweets from other school board members and her own quotes.
"We do not understand why the School Board would not deliberately address overcrowding at McLean HS this year unless they were planning something broader in scope…Why would the School Board need to discuss Boundary Policy 8130-7 at all unless they were looking at a countywide change?"
Dr. Pooja Singh said: "There was a general evasive notion throughout the night for important topics…I find none of this reassuring and worry for the future of our children since their school board is more focused on creating homogeneity rather than excelling our precious children."
PETITION FOUNDER Shupp added "Our children are not pawns on a chessboard that can be interchanged to achieve someone's idea of the correct kind of diversity. These are real children who will be impacted by any changes."
Strauss said no changes are imminent to school boundaries, and "no one is pushing anyone out of the Langley School area." Any changes to come will be done after considerable study and planning "full transparency and community feedback" and are a long way off, but solutions are needed sooner rather than later for schools like McLean that are already beyond capacity.
"We owe that to our students."
More like this story