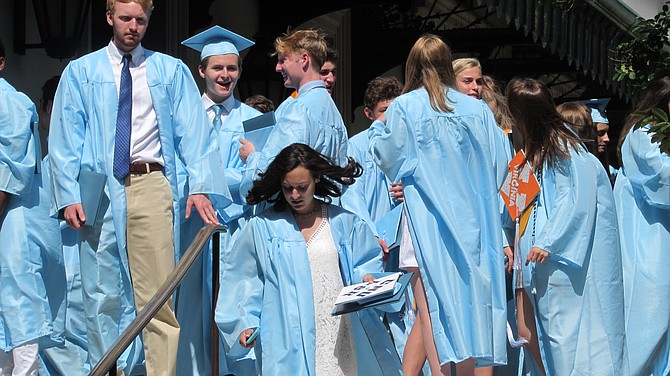 Bridget Loft, principal of Yorktown High School, gave the opening address at the June 20 graduation ceremony that took place at D.C.'s historic Constitution Hall. In her speech, Loft recognized the accomplishments of the 436 graduates seated before her. "All of you have laid the groundwork for exciting and meaningful next steps as young adults," Loft said. She also congratulated the college-bound graduates who, collectively, won over $18 million in scholarship money.
Rather than inviting a commencement speaker, the class of 2019 chose a speaker from among their ranks: Garrett Ferguson. He reflected on the four years the class had spent together. "Yes, freshman year was definitely a year of firsts, but it was also a year of lasts. It was the last time we felt like we did not belong at Yorktown," Ferguson said.
Gabriel Barrett, the school's valedictorian who is bound for the Massachusetts Institute of Technology this fall, expressed pride in his classmates. "Graduating high school is no small feat," Barrett said. In addition to congratulating his fellow graduates, Barrett also wanted to impart some words of wisdom on his audience. "You'll be average somewhere, maybe in a job or a school… Whatever it is you do, keep trying to be the best that you can. Maybe we'll make it such that our collective average raises the bar and changes what it means to be average," Barrett said.
After the ceremony finished, the students poured out onto the sidewalk, mingling with friends and family in the afternoon heat. Many of the new graduates walked around with wide grins on their faces. "I'm glad to be done. I am definitely ready to move on," said Bridget Flynn, who will be attending Virginia Tech.
Other students reflected on the hard work they put in to be able to graduate. "At first I kind of slacked off," said Favio Antezana, "but I realized how important education was and really worked hard during my junior and senior years."
Nathan Burson summed up the attitude of many graduates by simply saying, "It's freaking epic!"