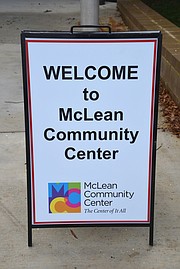 Having recently completed the renovation and expansion of its Ingleside Ave. facility, the McLean Community Center (MCC) is now asking residents what kinds of programs and services they would like to see offered. MCC's Public Hearing on FY 2021 Programs will be held at 7:30 p.m. on Wednesday, March 27. All meetings of the board are open to the public. MCC is located at 1234 Ingleside Ave.
The MCC Governing Board wants to hear from residents of Small District 1A-Dranesville, who pay a real estate surcharge to support the center. The hearing is the first step in planning for the FY 2021 budget cycle, which begins July 1, 2020 and ends June 30, 2021. The center's divisions include the Robert Ames Alden Theatre and The Old Firehouse Center.
Tax district residents who wish to speak at the hearing are asked to call the Center at 703-744-9348, TTY: 711, to have their names placed on the speakers list; however, speakers are not required to sign up in order to speak. Residents also may submit comments by mail, fax (703-556-0547) email (holly.novak@fairfaxcounty.gov) or in person up to seven days after the hearing.
For more information, call the Center at 703-790-0123, TTY: 711, or visit: https://bit.ly/2tGi5IC.