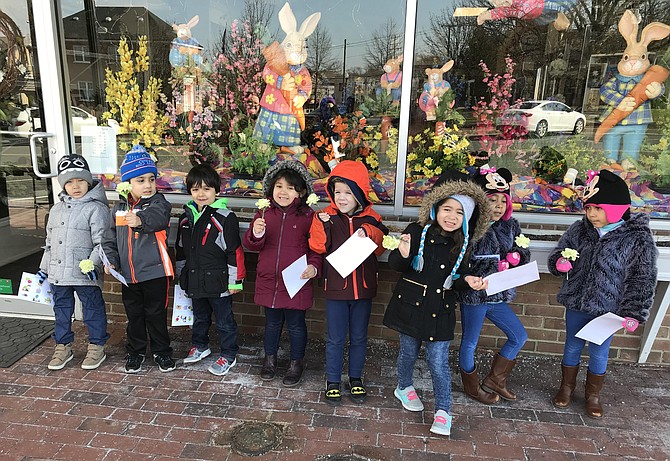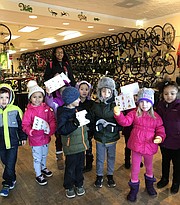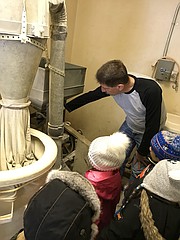 During February, teachers at Herndon Community Center Preschool taught their young students about community helpers, the given individuals traditionally seen working in public service roles of safety, health and education. "We talked about police officers who work to protect and keep us safe, firemen who help to protect our families and our homes from fires, and the many different types of doctors that help to keep our bodies healthy," said Kellee Windom, Lead Preschool Teacher, Herndon Community Center.

Discovering other helpers in the local community, those in the service industry and doing so through a scavenger hunt adds fun to the educational process and kicks it up a notch. Incorporating different approaches or learning styles to the lesson, a physical field trip, one-on-one social encounters and team efforts kicks learning up even further.
Students and teachers from HCC Preschool and chaperones, many with strollers, walked down the W&OD Trail (Washington & Old Dominion Railroad Regional Park) from the community center directly into Herndon's Downtown Historic District. The setting of the preschool, located a 15-minute stroll via the paved trail, offered the children a safe exercise pathway to the downtown district with opportunities for children and teachers to talk about the experience ahead of them.
"The teachers created a scavenger hunt of different local shops and businesses in our Herndon area that the children could find as we walked through the downtown area. This gave us the opportunity to share about the history of Herndon…while finding the different vendors and shops listed on their scavenger cards. Once they found the scavenger location, all went inside to talk one-on-one with the community helper and to find out a little more about their jobs," said Windom.
The children visited the local library, bike shop, florist, hair salon, bakery, animal hospital, library, family eye care practice, ice cream shop and various other businesses in the downtown district, according to Windom.
"At the library, we put the books in a box in the wall outside and saw them disappear. Then we got to go inside a special room in the back to see where they went," said Amaya Benavitch, 4.
"The ladies at the flower shop were really nice. They even gave me a real flower," said Aseel Yahya, 4.
"The machine that makes the flour at the bread shop is really loud. I wanna see him do it again," said Vedanta Neupane, 4.
The Herndon Community Center Preschool offers a variety of activities designed to be fun, yet promote learning, according to the center's website. To learn more about registration information for the current and upcoming programs: 2018-2019 School Year, 2019 Summer Preschool and 2019-2020 School Year, contact Kimmie Alcorn at Kimmie.Alcorn@herndon-va.gov or 703-435-6800 x 2119.