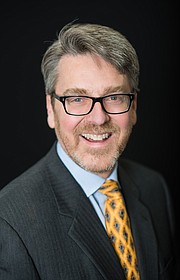 Andy Sigle has been appointed at Leadership Fairfax as its new chief operating officer and vice president of external relations. Sigle is a graduate of the Leadership Fairfax Institute (LFI) class of 2014 and recipient of the 2018 Best of Reston Award for individual contributions to the community. He brings more than 30 years' experience in the telecommunications field to the position, most recently leading data center giant Equinix as global vice president.
"Andy's passionate dedication to community and his ability to collaborate across sectors makes him an ideal addition to the staff at Leadership Fairfax. We know his vision will help guide the organization as we move into a new year of opportunity and growth," said Karen Cleveland, Leadership Fairfax CEO and president.
Sigle graduated from the LFI program and chose to pursue new opportunities in his community, embarking on a series of volunteer and employment opportunities including time with Cornerstones, Reston Association, Southgate Community Center Advisory Council, Lake Anne Brew House, Reston Historic Trust and The Reston Chorale. He holds an MBA in Business Policy and Finance from The University of Chicago Booth School of Business, and a Bachelor of Science in Engineering and Bachelor of Arts in Economics from the University of Illinois.
In Sigle's new position, he will collaborate and coordinate with external community partners to support and further the mission of Leadership Fairfax. Sigle serves as sponsorship contact for all of Leadership Fairfax's signature events, including the upcoming Board of Supervisors Breakfast on Friday, April 5, as well as daily operations and the organization's strategic engagement.
Leadership Fairfax headquarters are located at 8230 Old Courthouse Rd., Ste 100, Vienna, VA 22182. To learn more, call 703-752-7555 and visit leadershipfairfax.org.