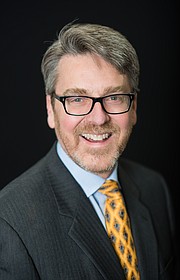 Reston Association Board of Directors elected Andy Sigle as board president at its Thursday, June 28, meeting. Sigle secured more votes that evening than his sole contender for the office, Sridhar Ganesan, Vice President of the Board. Each year, after RA members elect new directors, board members choose four of the nine directors as officers.
Sigle won his at-large seat, a one-year term on the board, in April's election. Sigle replaces David Bobzien as President of the Board. Bobzien resigned his president's position on the board and his Apartment Owners' Representation seat after being diagnosed with leukemia in the spring. Apartment owners selected Catherine Baum to fill the vacant Apartment Owners' Representative seat on Reston Association's Board of Directors.
Before the board's vote, Ganesan and Sigle gave remarks. While Sigle reminded board members that many good things have happened in RA, he cautioned, "There's also been some divisiveness at RA over the last year, and we need to change that and set a more positive tone and course for the Association."
Referencing his experience in finance, Sigle informed the board he has an MBA from the University of Chicago with a concentration in finance and a 28-year corporate career in the telecom industry, the last two-thirds as Director and Vice President.
Sigle he told the board that hiring a CEO and CFO, and the 2019 Capital Reserve Study were important steps.
"We need to review and tune the second year of the Bi-Annual Budget that was put together last year and work with staff to make sure that it is accomplished successfully," Sigle said. "I'd certainly like to see the continued monitoring and engagement in land use issues as they affect our quality of life and in particular in terms of the essential elements of Reston as set down at the creation of our planned residential community."
Sigle previously served on the board from 2011-2014, his last two years as vice president. He worked in the telecommunications industry for 28 years and has most recently turned his attention to community work at Cornerstones. Sigle has also been involved with the Southgate Community Center Advisory Council, the South Lakes High School PTSA and the Reston Historic Trust, among other local activities."
As a current board member and president, Sigle will serve on the Board Operations Committee, the Legal Committee and as a Covenants Liaison. For a list of all committee assignments and contact information for board directors and officers, visit www.reston.org.