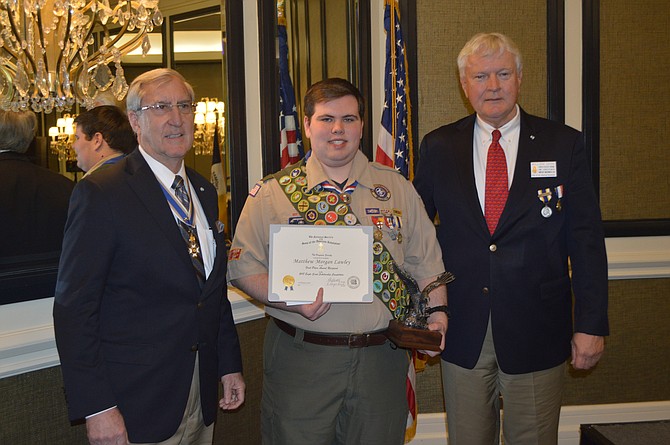 Lauren Bradshaw of Chantilly and Matthew Lawley of Herndon both had to win their respective contests sponsored by the Fairfax Resolves Chapter of the Virginia Society of the Sons of the American Revolution (VASSAR) before moving on to the 2019 annual state-wide competition. Having earned that achievement, they faced entrants from the 28 eligible Virginia SAR chapters before they were declared the winners.
In February, Bradshaw and Lawley travelled to Richmond to compete, and were then awarded medals, certificates and $1,000 in prizes each when they emerged victorious among many worthy young competitors.
BRADSHAW is a homeschooled ninth grader and was only 13 when she competed for the Joseph S. Rumbaugh Historical Oration Award, delivering from memory a six-minute discourse regarding the need to maintain history as a critical component of our educational curriculum.
While recognizing the importance of STEM-focused education, Bradshaw still makes a case for learning about our nation's founding and cautions against de-prioritizing history studies. She sees them as necessary to a well-rounded education.
The confident young winner says she "always liked public speaking," finding it "easier to pass on a message because in writing you can't put in a personal tone, emphasis, or inflection on things like you can in oratory."
The judges of the contest, which is open to students from the 9th – 12th grades, must have agreed and appreciated her use of those elements in her speech.
Bradshaw doesn't just let history remain in books or bring it out only for competitive purposes. To truly demonstrate her interest, she led an effort to restore an overgrown cemetery in her own neighborhood that contained the graves of Revolutionary War Virginians.
Herndon High School graduate and current Northern Virginia Community College freshman Matthew Lawley also had to make it through the local round of competition before he won the nationally-sponsored Arthur M. and Berdena King Eagle Scout top honors. The award is open to all Eagle Scouts interested in the American Revolution who are registered in an active scouting unit and under the age of 19 during the year of application.
SAR gives extra credit to applicants that have secured the American Heritage, Law or Genealogy merit badges. Among the impressive 101 merit badges that Lawley has earned during his scouting career are included all three of these distinctions most-prized by the competition judges.
LAWLEY met the contest requirements preparing a four generation genealogy chart of his family and highlighting his leadership roles through scouting, through his church, and in his community. For the essay portion of the competition, Lawley crafted an essay that presented a persuasive argument on the need for a monument to John Adams in Washington, D.C. Adams is one of the few founding presidents to not be so memorialized.
"It would be amazing," said Lawley, to be able to someday "join SAR and see a monument built to John Adams in Washington."
Lawley also expressed his gratitude for the opportunity to compete, and for the recognition of scouting programs by SAR, and the Virginia and local chapters.
Both Bradshaw and Lawley are now eligible to move on to the national competition, to be held this summer, where top awards take home up to $10,000.
Among their mission objectives, the National Society of the Sons of the American Revolution, the VASSAR, and local chapters like Fairfax Resolves exist to "inspire…the community at large with a more profound reverence for the principles of the government founded by our forefathers; to foster true patriotism; to maintain and extend the institutions of American freedom."
Together they sponsor a range of competitive educational programs for youth from fourth through 12th grades, with no requirements for Revolutionary War ancestry in order to compete.
For more information, see their websites at www.sar.org/education/youth-contests-and-award,www.virginia-sar.organd www.fairfaxresolvessar.org.