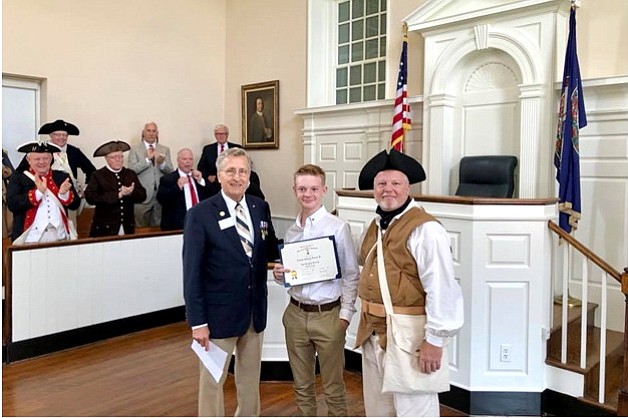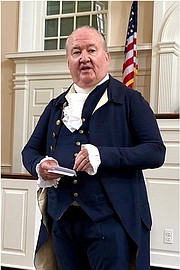 On Saturday, July 28, 2018, the Fairfax Resolves Chapter, Virginia Society, Sons of the American Revolution (VASSAR), hosted the 244th Anniversary of the signing of the Fairfax Resolves. The celebration took place in the historic Fairfax Courthouse in Fairfax. The Colonel William Grayson Chapter was represented by four members who participated in the ceremony, the color guard and the presentation of wreaths. Those Compatriots present were Mike Weyler, Leamon Duncan, Jacob Duncan and Don McAndrews.
The Fairfax Resolves was a set of resolutions adopted by a committee chaired by George Washington in Fairfax County in the colony of Virginia on July 18, 1774, in the early stages of the American Revolution. The resolutions, written primarily by George Mason, rejected the British Parliament's claim of supreme authority over the American colonies. More than thirty counties in Virginia passed similar resolutions in 1774, but the Fairfax Resolves were felt by many to be the most detailed, the most influential, and the most radical.
The main focus of the program was the reading of a number of the resolutions by interpretive readers, most of whom were in period dress, speaking as various members of the original committee, including a couple of readings and interpretations by George Mason, portrayed by Don McAndrews.
A highlight for the Colonel William Grayson Chapter was the chance to conduct a Sons of the American Revolution induction ceremony immediately following the celebration of the Resolves. Leamon Duncan's grandson, Jacob Michael Duncan, who lives in Omaha, Neb., was approved as a Junior Member in 2017 but had never been formally inducted into the SAR. Since Jacob was visiting Leamon for the week, the Fairfax Resolves Chapter granted the privilege of inducting him into the SAR as an adjunct to the Fairfax Resolves Ceremony.