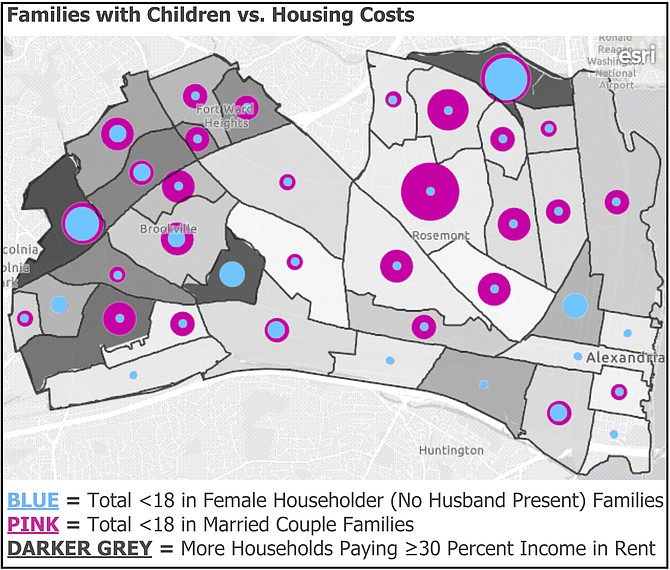 This is the fourth in an intermittent series to help citizens visualize relevant data, relationships, and trends in the city's geographic context.
This year and beyond, local government will consider spending and policy decisions — such as housing affordability, high school and preschool — which could impact families. Here's a limited sketch of some trends.
Regarding financial and housing security, "two very different family narratives" play out side-by-side in Alexandria, said Dr. Bethany Letiecq. She's a local researcher and associate professor in George Mason University's Human Development and Family Science program.
A family's economic health and relational health are "highly related," she said. Greater income and other resources — such as in households with more than one earning adult (not necessarily married) — adds stability. But children in well-to-do households may also experience "prolonged adolescence," resulting from their remaining financially dependent on parents longer, as part of grooming for college and jobs.
On the other hand, poorer families contend with "misalignments" between job opportunities and childcare access, and "are just being crushed" by inadequate housing, she said. These children may experience early "adultification," such as taking care of younger siblings or working to supplement family income.
Housing costs are a principal contributor. According to the Alexandria Commission for Women's 2018 Status of Women Report: "The largest source of financial stress in Alexandria is housing. … Two-thirds of the waitlisted applicants for public housing are women and one-third are women with children."
"Every year I have a handful of great young couples that have to move out of the area so they can afford a house," said the Rev. Daniel Gee, pastor at St. Rita Catholic Church in Arlandria. "Especially if the mother wants to stay at home and raise the children."
Childcare costs are another major contributor. The Commission for Women's report put the average cost to Alexandria families at nearly $38,000 per year. That alone greatly exceeds the $26,000 2019 federal poverty guideline for a family of four.
Even well-to-do families feel the mounting pressure of busyness.
"We are doing too much [travel sports, piano lessons, etc.]. We're not really figuring out ways to prioritize family," said Dr. Amy Fortney Parks. She heads up The Wise Family, a local psychotherapy practice focused on children, teens and families. "There's a lot less oversight in families [over children] these days."
Many children are "living busier and over-programmed lives," contributing to a loss of interaction with a diversity of peers, said Rabbi Steven Rein of Agudas Achim, a local Conservative Jewish congregation. He also thinks "people don't know the people in their neighborhood." Youth now find many ways to interact and entertain themselves that don't require leaving the house, contributing also to more isolation from the wider community.
Land use patterns that don't facilitate pedestrian interactions, walking to friends' houses and community gathering places also contribute to youth isolation, said the Commission for Women's Liz Johnson.
Two contrasting narratives may also play out side-by-side in Alexandria with respect to the larger social networks in which families are situated, according to the Rev. Scott Maurer. He provides individual and family counseling services through the West End's New Day Help Center and pastors West City Fellowship, a local church.
Often "people don't have a lot of modeling" for healthy marriages, he said. "I've seen some very, very sincere people who will just say: this stuff you're telling me now, nobody ever told me this, I never saw it. …A lot of the time, people don't have good social networks, and particularly as you get down into less income. …If you're in a sea of … broken home[s], you're just going to have fewer models of really good, successful ones."
"At one time, whether good or bad, families would stay together," said Bishop Carver Poindexter, pastor at Love of Christ Church, a Pentecostal congregation in Arlandria. He and his wife of 54 years, co-pastor, offer a variety of counseling to strengthen relationship habits.
First Lady Lorene Poindexter thinks young couples, and increasing the popular culture, tend to confuse lust with love, and that this contributes to the formation of broken and single-parent families.
Maurer says many lower income and minority ethnic people he counsels — African-Americans, Africans, Hispanics — seem to hold relatively more religious and "socially conservative" values than "white middle class-ish sorts of people. …Where this is relevant … is that a lot of times this is something that's overlooked. Decision-makers in government" and "the more elite voting base" are "not speaking the language of some of the people that they want to help," he said.