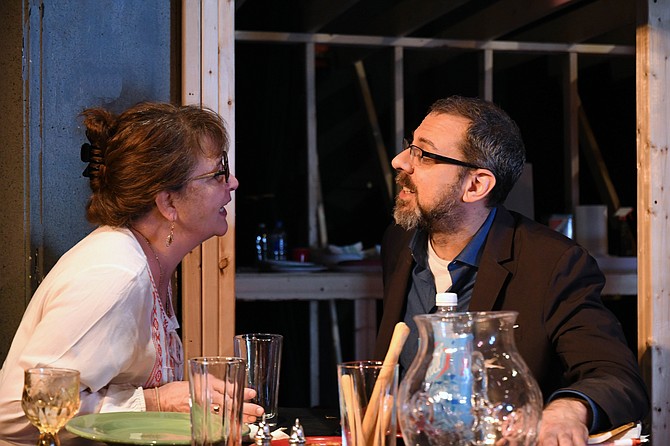 With plenty of wit and toughness, and winner of the Pulitzer Prize and multiple Tony Awards including Best Play, "'August: Osage County' may be one of the best American plays of our time," said David Whitehead, Providence Players board. "Its portrayal of the collapse of the nuclear family brings to the fore societal changes that have happened over time and across cultures."

Written by Tracy Letts, "August: Osage County" centers on a missing father, a mother with a pill habit and three sisters with their own share of little secrets. When the larger family has to unexpectedly reunite after Dad disappears, their Oklahoma family homestead becomes a place full of tumult, unsettling mysteries with plenty of scathingly acidic and uproarious dialogue.
"August: Osage County" is about "a family and all of the complex relationships and secrets that lurk beneath told with a sense of dark humor," said director Michael Donahue. "I love to direct theatrically challenging and complex plays … to bring to life these characters with all of their flaws so that the audience will have empathy for these people while laughing at the dark humor."
The Providence Players cast includes seasoned Providence Players members and new talent. The age spectrum runs from 14 years of age to actors in their late 60s.

"We all know a family, group of people that are what we consider a 'trainwreck,' but we fail to realize that those 'trainwrecks' are fully functioning families with ups and downs, with good and bad times, just like everyone else," said David S. Rawlings who plays Steve Heidebrecht.
"I wanted the opportunity to dig deep and find the crevices of my character Barbara Fordham, the joys, the struggles, the pain, what twists and turns she emotionally encounters and how she prevails," said Beth Gilles Whitehead.
"This show will engage you. You will see your own family in many ways, and in many other ways, you will be grateful to note the differences! You will be thoroughly entertained," said Mary Zuzik Andrechik who plays Karen Weston.
"For a play that can be quite serious at times, it is also hilarious. A lot of the humor in the show comes from the same place: identifying with, or at least recognizing, these characters in our own families and ourselves," added Andra Whitt who plays Ivy Weston.

Providence Players presents "August: Osage County" at James Lee Community Center Theater, 2855 Annandale Road, Falls Church. Performances: March 29 to April 13, 2019.
Where and When
Providence Players presents "August: Osage County" at James Lee Community Center Theater, 2855 Annandale Road, Falls Church. Performances: March 29 to April 13, 2019. Thursday, Friday and Saturday at 7:30 p.m., Sunday matinees March 31 and April 7 at 2 p.m. Tickets: Adults $20 Seniors (62+)/Students $17. All seating reserved. Call 703-425-6782 or visit www.providenceplayers.org