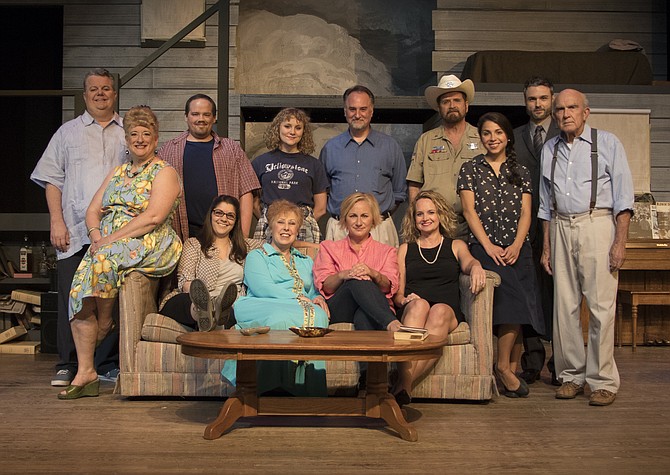 The Little Theatre of Alexandria is presenting "August: Osage County" from now through Sept. 23. When the family patriarch vanishes, the Westons return to rural Oklahoma to care for their afflicted, manipulative mother, Violet. Armed with prescription drugs and paranoid mood swings, Violet reigns over the home as family secrets unfold. This family drama by Tracy Letts won the 2008 Pulitzer Prize and the Tony Award for Best New Play. It is directed by Susan Devine and produced by Lloyd Bittinger.
"What makes 'August: Osage County' different is that it is very intense and deals with difficult issues related to addiction and suicide and how that affects family members as they relate to each other being again pulled together to deal with the tragedy. It is not the kind of show that you will leave humming a Broadway tune," said Bittinger, who has been affiliated with LTA for 23 years and best known for producing "A Christmas Carol."
He added: "(It) is a unique kind of show in that the audience will be exposed to issues and/or situations probably never seen on stage before. The script is very mature and in some ways shocking. You should come away from this show having felt intense emotional responses to the characters and situations the playwright introduced to you."
A director for more than 20 years, Susan Devine said the reason she wanted to direct the show was: "I am always in search of the best material and 'August: Osage County' is both a Pulitzer Prize and Tony Award winning show, so it's definitely superb material. And, it's relatable. It focuses on the modern American family. Tracy Letts set out to write the next great American family drama and he succeeded."
She added: "(It) deals with very serious problems that can destroy a family, including addiction and infidelity. The show is very emotional and intense, much more dramatic than other shows I have directed."
Fred C. Lash, who is playing the role of Beverly Weston, said he would like the audience to understand what a dysfunctional family goes through when it comes together. "The emotions and arguments portrayed in 'August: Osage County' are not rare, they occur in families every day and must be dealt with. When feelings are penned up and stored deep within someone, it takes a lot to bring them out and the results are not always pleasant," he said.
He added that it is the most thought-provoking and intense play in which he's ever played a role. "It carries the audience to laughter; then makes it cry due to the profound sadness that hangs over the entire show. Also, I have never had a role in which I have spoken and performed at the very beginning, then disappeared until the curtain call," he said.
Tom Flatt, who is playing the role of Charlie Aiken, said "'August: Osage County' is a beautifully written show that is heartbreaking, hilarious, and at times shocking, which is the best kind of theater. My character reminds me of my relatives on my father's side, so I connect deeply with him. He also has some of the funniest lines in the show, which makes him a hoot to play."
He added: "I love ensemble shows and ones that would be labeled 'dramedies' (dramas with a lot of comedy). This play kind of ups the ante on that style. I think of it as a tragedy played as a comedy, which makes it unique and challenging."
Diane Sams, who has been acting almost her whole life, plays the role of Violet who is the remains of a painfully sad woman. "She has tried to fill the voids in her life with pills and has only succeeded in driving away her family and leaving herself alone in her own darkness. She has mistakenly interpreted her rage and viciousness as strength which is revealed in the end as the weakness caused by the death of her own humanity," she said.
She added: "To be truthful, I find nothing appealing about Violet Weston. She is one of those human wrecks for whom one may find pity but only after a large amount of revulsion has been overcome. I feel it is important to play such a character because she is a lesson in the evils of addiction, selfishness and personal weakness."
Katarina Frustaci is playing the role of Johnna Monevata, who she describes as wise and patient. "And because she isn't easily fazed by the drama that ensues in the Weston family, her presence is comforting and provides a steady rhythm among the chaos," she said.
Elizabeth Keith, who is playing the role of Karen Weston, said: "I believe Karen is a strong person and someone who has taken charge of her life against many odds — she has earned her happy ending. However, she wants so much to be loved and accepted that, in the end, she makes a rather untenable choice to follow her dream rather than deal with the reality that unfolds in front of her. She, like many of the women in this play, is also struggling with a loss of her youth and how to deal with the life she has left versus the life she wanted for herself, which presents some validation to her decision."
Greg Wilczynski, who plays the role of Little Charles Aiken, added: "Playing Little Charles has taught me how to enjoy the simple things in life, and the true meaning of forgiveness and love. Love and forgive yourself, so that you can share that with others."
He added: "I believe that the audience will see pieces of their family present throughout the show. Some families may not be to the extreme of the Weston's but I guarantee they will share something in common. If nothing else they will leave the theatre very thankful for the family they have."
The Little Theatre of Alexandria is presenting "August: Osage County" from now through Sept. 23. Show times are Wednesdays through Saturdays at 8 p.m., Sunday matinees at 3 p.m. Tickets are $21 and $24. The venue is located at 600 Wolfe Street, Alexandria. Call the box office at 703-683-0496 or visit the website at www.thelittletheatre.com.