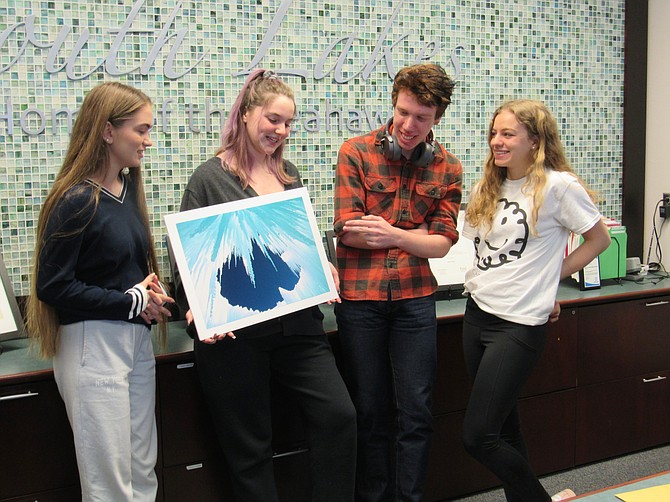 South Lakes High School (SLHS) students swept the Fairfax County Art Region's 2019 Regional Scholastic Art Awards, securing 24 honors. Twenty students earned a total of twenty-four awards, eight Gold Key, ten Silver Key and six Honorable Mentions.
According to Fairfax County, middle school and high school students by the thousands submitted their drawings, paintings, prints, photographs, ceramics, sculptures, digital art, architecture, jewelry, fashion, film and animation, mixed media artworks, and portfolios to the Regional Scholastic Art Awards program sponsored by the Alliance for Young Artists and Writers. The website for the Scholastic Awards states the young artists were free to explore any topic. No work would be disqualified because of content. As for judging criteria, three areas dominated: originality, technical skill and the emergence of a personal voice or vision.
Out of the thousands of regional submissions, Gold Key, Silver Key and Honorable Mention awards were bestowed for outstanding works. SLHS student artists James Bailey, 18, and Laela Huddleston, 17, both of Reston earned Gold Keys at the Regional level.
"I'm very thankful to have received this award," said Bailey who submitted a photograph titled, "Shrub."
Huddleston, who submitted a photograph titled, "Cold Hell" said, "Being in the art program at South Lakes High School has pushed me as a photographer to view things differently and capture what may not come easily to the eye."
Katia Pavlova, 16, was the only regional SLHS winner in the sculpture category who earned a Silver Key. She created "Becoming."
"I love art because I have the freedom to express my feelings and emotions without any judgment," Pavlova said.
Selina Boybeyi, 18, also earned a Silver Key for her work, "Gold and Garbage" at the regional level. Boybeyi expressed her joy at being part of something special. "I feel content that my work was able to live in the moment, alongside masterpieces and shining lights."
All regional Gold Key award-winning entries, such as "Self-Portrait" by SLHS artist Gabriella Baughman, were submitted to the National Scholastic Art Awards competition. Baughman earned a coveted Silver National Award for her painting. She could not be reached for comment.
"We appreciate all the support of our amazing art teachers... We are incredibly proud of our Seahawk artists and all their amazing work," said Kimberly Retzer, Principal, South Lakes High School.