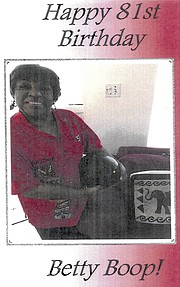 Betty Crews Graves is celebrating her 81st birthday with a bowling party. She bowls in three leagues for recreation and exercise. An avid bowler, she was twice nominated to the MSBC local Hall of Fame. She is a retired Fairfax County Public Schools teacher, having spent 39 years in the classroom from West Virginia to Virginia, Hawaii, Ohio and back to Virginia. She retired in 2001.
She has traveled extensively to England, France and back to Hawaii plus South Africa.
She was in the Ms. Senior Virginia Pageant in 2005, winning talent, community service honorable mention, and most ads in the souvenir book. She was also in the 2016 Pageant, winning first runner-up, Ms. Congeniality, and most ads sold for the souvenir book, just as in 2005.
She is the mother of three, Debbie, George and Mke, eight grandchildren and five great grandchildren. She enjoys spending time at the senior center at Gum Springs, attending Alfred Street Baptist Church, and, of course, bowling.