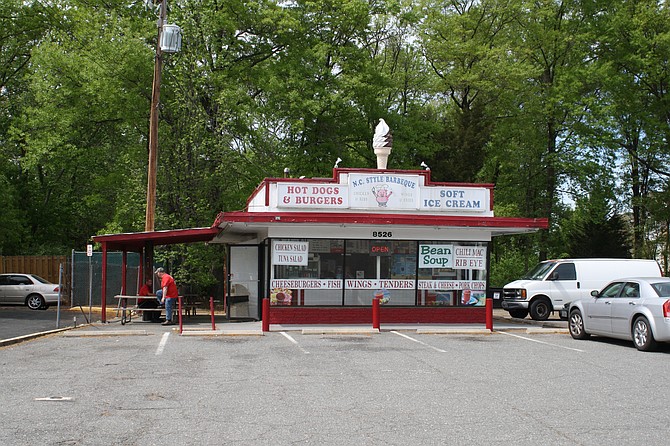 The plastic twist ice cream cone on the roof and the weathered sign on Richmond Highway are evidence that Johnny Mac Barbecue has been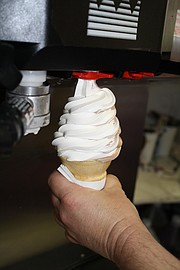 around a few years, and the regular customers can attest to the popularity of their food. "I've had almost everything on this menu," said Wayne Scott, who stopped by one afternoon for a sandwich.
Dave Jackson comes in twice a week, but likes the comradery as much as the food, which ranges from hamburgers, hot dogs, ribs, soft-serve ice cream and their banana split. "It's authentic, they interact with their customers in a special way."
Jackson was referring to the owners, Mike and Claudia Hill who have owned Johnny Mac's for 30 years. Mike Hill's a graduate of Edison High School in Franconia and Claudia Hill graduated from Hayfield in 1973. The Hills put all their energy into the 600-square-foot carry out, and love every minute of it.
"Chocolate chip cookies I make from scratch," said Claudia Hill. The Strawberry Shortcake is the newest item on the menu. "We sell a lot of banana splits," she added.
Johnny Mac's specializes in North Carolina barbecue and Mike Hill is proud of the fact that they don't skimp on the sauce's authenticity. It's got vinegar and peppers to start with, and they get a lot of military folks come in, mostly from Fort Belvoir for the real thing. "We do it right," he said.
Johnny Mac's started years ago with owner Ralph Roof, a local restaurateur who built it from the ground up. He now lives in Carolina Beach where he has a successful restaurant, the Hills say. They are friends and stay in touch. Roof is over 80 years old. "He comes up and stays with us every once in a while," said Mike Hill.
Inside the kitchen, things are tight due to space constraints, but they make it work. "Everything has its place," said Claudia Hill. "The grill was here when we came but it doesn't look old because we keep it up," she added.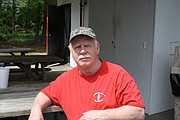 The faded sign out front may have to be moved when the Richmond Highway widening project comes through, but they're not concerned. Mike Hill has looked into the project a little, and took note of the plans for the intersection at Cooper and Sacramento Roads, but he's been through road work before. "It will be interesting to see how they do it," he said.
As for the plastic ice cream cone mounted on the peak of the roof, it's been there so long it's become part of the scenery. Maybe 25 years. "It's
Details
JOHNNY MAC'S
8526 Richmond Highway, Alexandria
Hours: Mondays-Saturdays 11 a.m. – 9 p.m., closed on Sundays
been up there a long time," said Mike Hill. There's no plans to move it, or any other thing around this local icon, except maybe the sign. "They say not," said Mike Hill when he talked to the road planners.