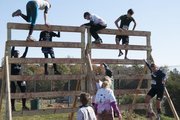 The first annual 5K Ice Cream Race will be held Saturday, June 28 from 9 a.m. to 3 p.m. at Bull Run Regional Park in Centreville. The event includes a chocolate syrup water slide, a whipped cream foam machine, a cherry juice pit, and limber limbo. In addition, there will be traditional obstacles like steeple chases, climbing walls and hills made of tires. Costumed people will line the race route dressed as ice cream cones, cherries and bananas; they will be throwing cherry bomb water balloons and other goodies at the runners. All runners will receive ice cream and a T-shirt.
For added fun, there will be an ice-cream eating competition, DJ Dance party and Zumba as well as a beer garden and food trucks. The ice cream, which includes flavors of vanilla, chocolate and sorbet, and sprinkles, will be provided by Scoops2U.
"There's really nothing like it. We just think it's a perfect time for an ice cream race, this being the first week of summer when school is out," said race founder Max Bawarski, 31, of Manassas. Bawarski is a P.E. teacher at Providence Elementary in the City of Fairfax. He organized two Blood and Guts Runs during Halloween that had 5,000 attendees, and he is planning his third Blood and Guts Run scheduled for Oct. 25.
In addition to the race, there will be a costume contest, with prizes for the best costume for individuals and wildest team, as well as the muddiest runner. "It's entertaining," said Bawarski. "It adds to the ambiance of the race."
He added that while most obstacle races are geared to hard-core athletes, this one is family oriented and fun as opposed to challenging. "We want people to have fun," he said. "We're going for anybody who likes fitness who wants to have a good time."
The first-annual Ice Cream Race will be held Saturday, June 28, from 9 a.m. to 3 p.m. The non-timed races will begin every 30 minutes starting at 9 a.m., 9:30 a.m., 10 a.m., etc., with 400-500 people in each segment. Cost of $59 expires on May 31, cost of $69 expires on June 15, and $79 expires on June 28. Proceeds will benefit the Special Olympics of Northern Virginia.
The venue is at Bull Run Regional Park, Special Events Center, 7700 Bull Run Drive, Centreville. For more details, go to www.theicecreamrace.com or email support@theicecreamrace.com or call Max Bawarski at 703-593-3173.