On the last day of April, 2019, the golfers gathered at the tee on holes one and 10 at the Springfield Country Club with dreams of making the cut to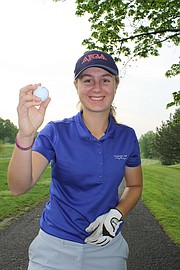 play in the Ladies Pro Golf Association tour. This is big step for young women hoping to make it as a professional golfer, and a big tournament for this local country club.
"This is an avenue for them," said Jennifer Cox, who was caddying for her daughter Carley, a 22-year-old from North Carolina. "She's chasing her dream," she said.
Before Elizabeth Coffren got up to the tee, she used her routine to calm the nerves. "I kind of zone out, I throw the ball in the air to distract me," she said.
Then there was Melanie Walker, a freshman at Robinson Secondary School that was younger then most of the others, but hit her first shot down the right side of the fairway just before the creek about the same distance as the others. She's a member of the country club, but plays other courses too.
"I like Burke Lake," she said. She was out there with fellow Robinson student Alexandra Austin.
Ashley Au is a senior in high school in Columbus, Ohio, and plans on playing in college next year too. Before teeing off at the event, she was in good spirits. "Do my best and see what happens," she said.
They were among the 50 players out on the course April 30 for the U.S. Women's Open Qualifying round, a major step in LPGA, and a credit to have at a local course. "It's a prestigious event, speaks to the caliber of the golf course," said Liz Cooper, the Head Golf Pro at Springfield Country Club.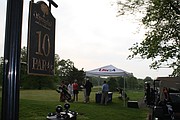 "Virginia hasn't had a PGA Tour event since Kingsmill hosted one in the early 2000s," added Chris Lang of the Virginia State Golf Association, located in Midlothian. Kingsmill Golf Club in Williamsburg will be the site of the LPGA's Pure Silk Championship in late May, and the PGA Tour Champions Dominion Energy Charity Classic is at Country Club of Virginia in Richmond in October. But for courses in Northern Virginia, there aren't any planned, so this puts Springfield's course in a category of it's own this year.
"Springfield has hosted a U.S. Junior Girls' Championship qualifier in recent years and was a natural club for us to ask to host this event," said Lang.
There were several threesomes teeing off all day. There were hooks, slices and putts from across the greens, but at the end of the day, the winners were Amanda Hollandsworth and Karoline Stormo who are the qualifiers to join the LPGA. Anita Uwadia is first alternate. Allie Knight is second alternate.