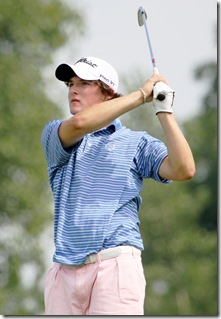 What do Tiger Woods, Phil Mickelson, Davis Love III, Jim Furyk, Charles Howell III, Paula Creamer and Morgan Pressel have in common? Each of these golf professionals competed in American Junior Golf Association golf tournaments as teenagers and all went on to become PGA and LPGA Tour players.
D.C.-area golf enthusiasts will have an opportunity to view future stars of golf from July 30 – Aug. 2 in the Under Armour/Steve Marino Championship at Bethesda Country Club. This tournament will highlight the skills and talent of 96 top boys and girls junior golfers in the U.S. and around the world, competing in a 54-hole event. No other AJGA tournaments will be held in Maryland, Virginia or DC this year. Admission is free.
"This tournament is a big deal," said Jeff Williams, BCC golf professional. "The field includes golfers from as far away as China, Thailand, Hawaii, Mexico and Arizona. Young men and women ages 14 - 18 will be competing — and I'm certain there will be a lot of college golf coaches and professionals looking at these golfers. This is an excellent opportunity for people interested in golf to see tomorrow's stars."
A Junior-Am tournament will be held on Monday, July 30. This tournament will pair one junior with three golfers in a competition to raise funds for the AJGA as well as The First Tee-DC. Tim Kane, BCC chairman of the AJGA event, said, "The AJGA Junior-Am provides an opportunity for local golfers to meet and spend time with the best junior players in the country in a competitive setting. It is a wonderful morning to spend at Bethesda Country Club and, who knows, you may be paired with the next U.S. Open champion." The entry fee for the 8 a.m. shotgun is $1,000 per team. To register, contact the Bethesda Pro Shop at 301-365-1703 or download the entry form at www.ajga.org.
Volunteers are needed for 3-hour shifts to serve as spotters, timers and scorers on all four days of the tournament. Call the BCC Golf Shop at 301-365-1703 to volunteer or email susanbelford@verizon.net.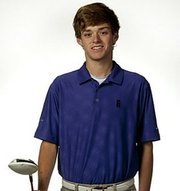 Among the competitors will be Bethesda Country Club Junior Golfers Keegan Boone, Mason Carmel, Nathan Tempas and Evan Katz. Boone and Carmel received exemptions due to their past performance in other tournaments and Tempas and Katz qualified in a BCC tournament for spots awarded for hosting the tournament. An AJGA qualifier will be held on July 28 at Poolesville Golf Course, Poolesville. This tournament is completely filled — 98 youth will be vying for spots in the tournament with 71 young golfers on stand-by in case anyone backs out.
"It's a great honor to play an American Junior Golf Association event," said Boone. "When I checked out the field, I saw that the top junior golfers will be competing. I am hoping that my familiarity with the course will be helpful — but these are the best golfers in the country, so the competition will be stiff." The Gonzaga graduate's handicap index is a +.2. He was selected as the Washington Post's All-Met Junior Golfer for 2012 and will be playing golf for Loyola University of Baltimore in the fall. Boone won the Bobby Bowers Memorial Junior Golf Tournament as well as the Bob Riley Golf Tournament and finished in the top 5 in Maryland State Golf Association Junior Division. Boone is aspiring to become a tour professional.
Carmel has been playing golf since age 4 when his dad introduced him to the game. He carries a handicap of +.5, is aspiring to be a PGA tour player and will be playing golf for Longwood University in the fall. Carmel is excited about the upcoming tournament: "This is the biggest tournament for the MD/VA region — and it is a thrill to have it at BCC, an outstanding course." Carmel, a June DeMatha graduate, is also a well-regarded local golfer. He was the 2010 Mid-Atlantic Player of the Year. He also holds the honor of shooting the lowest score in an AJGA tournament — a 62 at Stonehenge Golf Club in Winona Lake, Ind. He will also be competing in the AJGA tournament at Trump National in New Jersey and the U.S. Amateur Qualifier at the Blue Ridge Country Club in Penn.