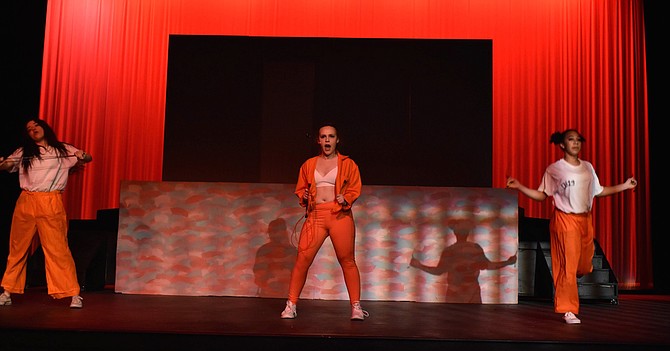 Though hidden under a facade of pink and sorority girl lingo, Washington-Lee's production of "Legally Blonde" delivered a heartwarming lesson about judgment and the invaluable nature of hard work. Hard work is something that cast and crew undoubtedly put into this show, everything from the vocal performances to the efficient set changes being worthy of praise. Despite the daunting physical demands of this musical, the cast maintained high energy levels throughout, making the most of every second they had on stage.
Based on the 2001 film of the same name, "Legally Blonde" first opened at San Francisco's Golden Gate Theatre in February of 2007 before moving to Broadway's Palace Theatre in April of the same year. The show reached both significant critical and commercial success, being nominated for seven Tony awards, broadcast on MTV, and eventually resulting in a reality show to replace the original Elle Woods, Laura Bell Bundy.
Though the entire ensemble did a great job of remaining reactive and exciting, the Delta Nus deserve special recognition for the enthusiasm and vigor they brought to their performances. Without their infectious sorority sister spirit, the show would have lost much of its unique flair. Numbers carried by this group such as "Omigod You Guys," "What You Want," and "Positive" were all highlights of the production. Unsurprisingly, Julia Elman who played protagonist Elle Woods delivered an amazing depiction of the iconic Malibu Barbie turned lawyer. Despite having almost no backstage time to relax and recover, Elman's vocals and lively characterization never faltered. Her rendition of "So Much Better" was particularly impressive, leaving the audience invigorated and eager for the second act to begin.
Both Emilia Couture as Paulette Bonafonte and Anna Nowalk as Vivienne Kensington particularly deserve praise for their powerhouse vocals and first-rate acting chops. Couture's performance of "Ireland" and Vivienne's killer belt during "Legally Blonde Remix" both earned audible gasps from the crowd, their execution by far exceeding what is normally seen in a high school production. In the polar opposite roles of Emmett Forrest and Professor Callahan, Drew Kellenberger and Sam Gerardi also performed well vocally and made great character choices, the former creating a stand up guy that the audience can't help but root for and the latter producing a creepy and ruthless "shark."
The popularity of "Legally Blonde" makes the production one where high expectations are hard to meet. Thanks to the wonderful efforts of the cast as well as the exceptional work done with lighting, set, and by the pit orchestra, Washington-Lee put on an amazing show that was definitely deserving of an "Omigod."