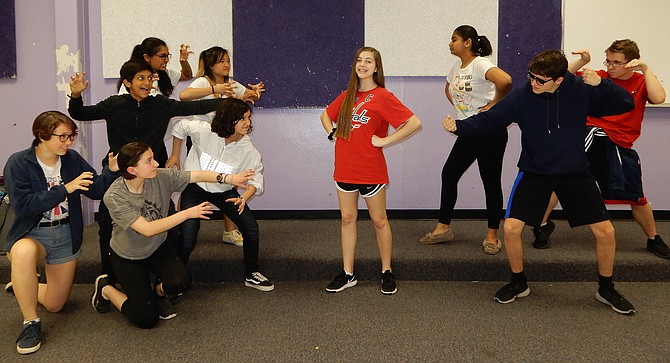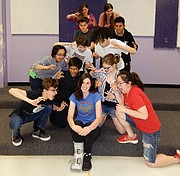 When Chantilly High puts on a children's show written by its former, longtime theater director, Ed Monk, there's no doubt it'll be hilarious. And the upcoming "Little Red Riding Hood & the Power Mutants" is no exception.
The curtain rises Friday, May 10, at 7 p.m.; Saturday, May 11, at 2 and 7 p.m.; and Sunday, May 12, at 2 p.m. Tickets are $5 at the door or via www.chantillyhsdrama.com.
In the story, a grandma who's lost all her money on lottery tickets is hungry. So her daughter, a TV anchorwoman, calls Little Red, a caterer, to bring her mother some food. But on the way, Little Red is met by wolves and rescued by Power Mutants – The Burper, Nerf Man and Rubber Chicken Girl – who have weird and unhelpful special powers. Meanwhile, hunters chase the wolves, while rangers chase the hunters.
Guest Director Ryan Sellers said so many talented actors auditioned for this show that it was double-cast. "They're such smart, adept and theater-aware students that rehearsals are moving at a brisk pace," he said. "Their comic timing almost needs no refining, at all. It's so natural that I can talk to them about techniques, instead, and that's a gift."
THE CAST AND CREW number more than 40, and scenes take place in Grandma's house, a news station and the forest. And the costumes will include fur for the wolves, plus bright, Superhero-type costumes with eye masks and gloves for the Power Mutants.
"This show is a twist on a classic that people already know and love," said Sellers. "The humor is so light, family-friendly and accessible that it'll appeal to everybody. And the performers will be having so much fun that the audience will, too."
Freshman Alyssa Dausch portrays Little Red. "She's eager and outgoing and sees everyone she meets as an opportunity for new business and/or a friend," said Dausch. "She has two modes – heroic, determined to save Grandma from starving, and saleswoman, always promoting her business and trying to get new clients."
Enjoying her role, Dausch said, "I get to switch between Little Red's two personalities. And she's over-the-top, especially in her heroic mode, so she's fun to play. And because it's a children's show, I get to make big motions and play a distinctive character."
She said audiences will like the play's goofiness. "It's a classic story of the protagonist on a journey, with helpers and obstacles," said Dausch. "But it's also silly, ridiculous and funny, so it'll really appeal to children. And we have fun props and physical-comedy bits, too."
Classmate Julien DaSilva plays Earl, a hillbilly farmer. "He and his hillbilly friend, Merle, try to go hunting and bag a wolf," said DaSilva. "They've been trying for 17 years and have never gotten one; so they're dumb hillbillies, but with a positive spirit. Earl's joyful and bubbly and tries to keep Merle from freaking out."
DaSilva is excited that, since his character is such a stereotype, he can do so many things with it. And, he added, "The great thing about being in a children's show is that we have to act bigger and goofy onstage, which exposes us as actors."
"There are so many different characters for people to connect to that audiences will have a great time," continued DaSilva. "It's a spinoff of 'Little Red Riding Hood,' but with new and interesting things. And it's a joyful, comedic show that people will really enjoy."
Portraying Killer, one of the wolves, is sophomore Griffin Williams. "He's aggressive and insane, with a wild expression and shaky hand motions," said Williams. He really wants to impress Oswald, who teaches the wolves to steal baskets and scare people. He also likes scaring people and wants to be feared."
Williams said it's a fun role because "Killer is a high-energy character, and I get to be loud and aggressive. With children's shows, you can be as over-the-top as you want, and I'm excited to see the children's reactions. It's a really fun show for kids."
Besides that, said Williams, "There are lots of good jokes for all ages and the story's really interesting. There aren't any pauses and the audience will be really into it."
Freshman Owen Chambers plays a Power Mutant called The Burper. "He was born with strange, mysterious powers," said Chambers. "He's the epitome of grossness in a Superhero. His super power is burping at a supersonic speed. He's friendly, but not very bright. But we Power Mutants protect the meek and innocent from danger."
STUDENTS Aidan Ramee and Anna Anderson portray Nerf Man and Rubber Chicken Girl, respectively, and Chambers likes acting with him. He's also made The Burper unique by "crawling around on all fours like an animal. Even the wolves are on two feet, so I like his physical comedy. And I talk with a voice like Kermit the Frog and Yoda combined."
Chambers likes being in a children's show because "You get to be funnier and more out there, and it's nice to hear children's laughter. And the audience will like the jokes, storyline, colorful costumes and excellent actors."