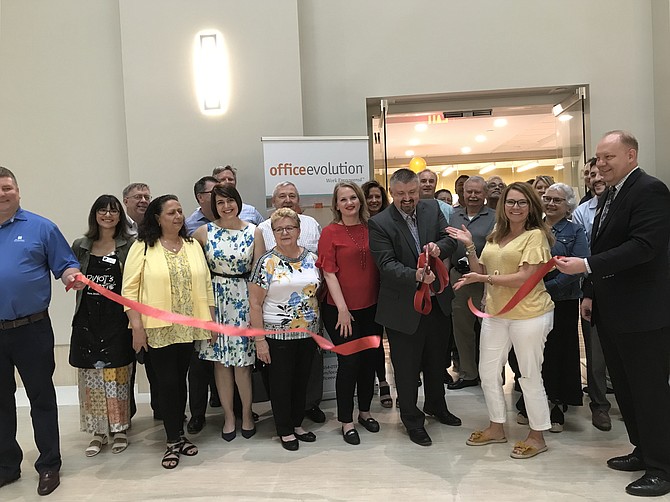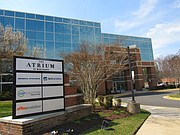 When technology professional and entrepreneur Martin Gruszka wanted to support the local suburban business community and open a shared, coworking business center, he turned to the largest coworking franchisor in the United States, Office Evolution.
On Thursday, May 2, the franchise officially expanded its footprint to Herndon with a grand opening celebration and ribbon cutting at its newest location, 205 Van Buren Street, Suite 120. The center is strategically located in the business district of the Town of Herndon, within walking distance of the Herndon Silver Line Metro Station and a seven-minute drive to Dulles Airport. "We found the perfect balance between glass-walled coworking environments and stuffy executive suites," said the owner of Office Evolution Herndon Martin Gruszka. He explained the flexible, 6400 square foot workspace is geared toward small-business owners, entrepreneurs, solo-entrepreneurs and micro-entrepreneurs.
At the event, Herndon Mayor Lisa Merkel said, "Here in Herndon, we are 1,300 businesses, about 1,000 of them have 10 or fewer employees." President of the Dulles Chamber of Commerce John Boylan acknowledged Mayor Merkel's advancement for businesses in the Town of Herndon. "Mayor Merkel is a great advocate for the business community," he said.
To celebrate the opening, Founder and CEO of Office Evolution Mark Hemmeter flew from Boulder, Colo. He joined Gruszka, Merkel, Boylan, Herndon Councilmember Jennifer Baker, Office Evolution Herndon members and supporters for the official ribbon cutting and remarks.
"Business owners believe in their own ability, so much, so they are willing to leap," said Hemmeter. "Martin Gruszka is an example. He believed in his ability, and he leaped." Hemmeter spoke about the "Ohana" culture, strong family atmosphere at Office Evolution and how it supports small business owners. "If you own a pizza restaurant, you have customers. If you own an Office Evolution, your customers are business owners too. That's what makes it fun. What Gruszka has done is grow a family."
Office Evolution member, Sunny Kumar came to the opening with his sons. Kumar is Founder and CEO of Peace Haven Corporation. "I see positivity here growing my business. The nature of the staff is so welcoming that it motivates me to build my IT business."
Collaboration is key, explained Gruszka; it brings people together to get things done. "Come in here and be surrounded by people who have their own dreams. We focus on small business entrepreneurs," Gruszka said.