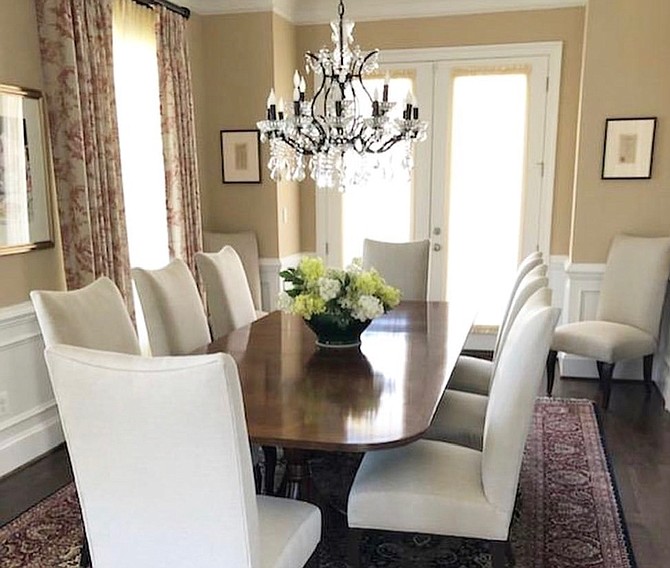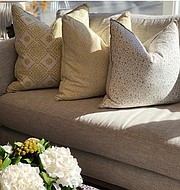 From pastel colors to floral accents, it's the time of year to celebrate the emergence of spring. Local designers offer spring decorating ideas that embody the season.
"Spring is the perfect time to freshen up your house by swapping out heavy, darker winter fabrics on linens and pillows with crisp and light patterns and designs," said Ann O'Shields of the Nest Egg in Fairfax. "Throw pillows are one of the easiest ways to instantly refresh a space. Greens and yellows are quintessential colors of spring and are popular currently in interior design. Whether you prefer florals or geometrics, there's a variety of options in fabric design for pillows."
When decorating the master bedroom in a Potomac, Md. home recently, designer Cameron Manning finished off the design with a cheery area rug. "The right rug can pull a room together and make a powerful statement," she said. "The client's favorite season was spring and she wanted a bedroom that was light and cheerful. For this master bedroom, I chose a vintage rug in a pale orange shade."
Manning also recommends using paint to breathe fresh, spring air into a winter-worn space. "Painting a room with an off-white shade infused with subtle undertones of yellow, pink or pale blue can really lighten and brighten it. If you don't want to paint and entire room, consider painting just the door frame."
From peonies and daffodils to lilacs and tulips, designer Connie Hall of Hall Designs says that moving spring blooms out of the garden and into a fresh floral arrangement is a sure-fire way to usher out winter.
"Nothing says spring like a bouquet of fresh spring flowers," she said. "A large bouquet can really can become the focal point of a room. Sometimes they're all you really need to show that spring has arrived."
Blossoms and branches from one's backyard can create visual interest and O'Shields suggests magnolia stems, cherry blossom stems and forsythia.
"Preserved floral arrangements are also an excellent choice and will last for years," she added. "Hydrangea flowers are a lovely, full option often used in preserved florals."
Lush greenery can be used for more than decorating a garden. "If you have a green thumb, consider adding in some plants in ceramic pots to add color and texture," said O'Shields.
Among the popular plants that O'Shields suggests fiddle figs. "[They] can also add height to your space," she said. "More foolproof plants include Pachira aquatic, also known as a money tree, succulents and rubber tree plants. They're all easy to care for and add a freshness to your space."
Those who don't have a green thumb shouldn't be afraid to fake it. "There are so many realistic options for artificial greenery available, said O'Shields. "Artificial branches can be almost identical to the real thing."