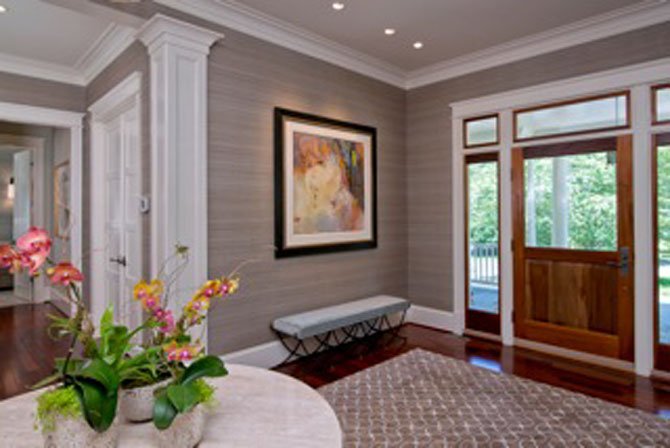 With yellow and blue flower buds starting to poke their way through the ground, you might be forgiven for believing that spring is actually coming this year. Even if your yard still looks like a winter wasteland, however, one place to make spring a reality is on the home front.
Designers say there is fun to be had. Use bursts of bright colors, energetic patterns and spring accessories to create a seamless transition into the new season.
"Presuming that winter is actually going to end, I recommend you start by freshening up a mudroom," said Christine Leu of Christine Leu Interiors in Potomac. "It is a functional space and a room you're in every day, so that it is good place to start."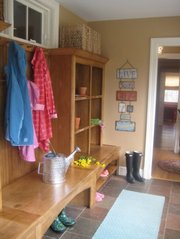 Leu just overhauled the space in her own home. "We purged the mudroom. I got all my kids involved in the clean out," she said. "We took out boots and coats and added brighter colored rugs and raincoats. Now it feels fresh and springy, and it's changed our whole household."
Leu also recommends turning to nature for inspiration. "This is the time to bring the outdoors in by getting out your vases and bringing in fresh flowers," said Leu. "Even if it is raining outside, as it often does in spring, flowers can brighten a space."
When it comes to filling those vases, floral designer Evelyn Kinville of Behnkes Florist in Potomac said, "Flowers that are particularly popular during spring are hyacinths, daffodils and tulips. These really shout spring. What makes people think of spring are flowers that they see growing in their yards." Kinville also recommends arrangements that include bright-yellow forsythia branches.
Bart Goldstein of Bart Goldstein Interior Design in Potomac said, "A glass vase with fresh flowers sitting on table always adds life, color and freshness to a room. Putting limes and lemons in a glass bowl an a table is clean and fresh. You don't need to spend a lot of money to create a wow factor."
Potomac-based designer Lauren Sachs of L.S. Design recommended starting "at the simplest, easiest point," she said. "Number one: update with spring colors. Updating pillows with lighter colors can refresh a room. Also, try updating photos and picture frames. Take out some of the old photos and bring in new photos."
Sachs said spring can also be a time for a bedroom revamp. "Bedrooms can feel like the same-old-same-old, but bedding can refresh a room beautifully," she said.
Refresh the walls. "Paint and add new color," said Sachs. "Wallpaper does the same and can add texture and design."
Goldstein said, "Buy an area rug with great colors that reflect the colors in your house and your personal style. Take all of your throw pillows off of the sofas and chairs and buy new ones in colors that coordinate. Pick a new, bright, fresh cheerful paint color for spring that relates to something else in the room and it's the thread that ties the room together. These three things create a huge impact. You've literally created a new room."
Don't neglect the bathroom. "It is nice to have new scents in the bathroom," said Leu. "New, spring-scented hand creams or lotions in pretty, colorful containers perk up a bathroom. You can even put flowers in your bathroom. Be creative with the vessels that you use."
Use hand towels to add splashes of spring hues and patterns. "Use fun, bright colors," said Leu. "They are not expensive and a nice way to brighten a room. You can change the shower curtain too. It's not hard to change out and that could make a big statement in a bathroom."
Sachs said the porch and patio are not to be overlooked either: "When it comes to outdoor living, pillows, rugs, outdoor draperies on a covered porch are a great way to bring spring in cost-effectively and quickly."
Goldstein advises homeowners not to underestimate the power of spring cleaning and organizing. "De-clutter your rooms," he said. "Don't be afraid to have the room look a little more sparse than cluttered. Get rid of all the junk: the things in the room that don't need to be there and accessories that you don't need."