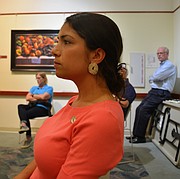 According to Charlie Forbes, Chief, Recycling, Compliance and Planning for the Fairfax County Department of Public Works and Environmental Services, the county receives about six or so complaints per year about the services provided by the fifteen waste haulers licensed to do business in the area.
"Six complaints, 15 haulers, over a million residents. That's not a bad ratio of complaints to services," said Forbes.
In the last few months, however, those complaint numbers have skyrocketed to over 200, with more being received by the offices of the individual district Supervisors.
"It's not hard to figure out that something is going on – something wrong," Forbes said.
THE COMPLAINTS that have been flooding county offices are targeting one particular company; American Disposal Services (American), that collects refuse, recycling and yard waste for about 120,000 county residents, according to Mason District Supervisor Penny Gross.
American Disposal Services was recently purchased by Waste Connections, Inc., whom Forbes described as a Canadian-based company doing business throughout North America.
The typical contract between American and its customers is for two collections of refuse per week, and one each for recycling and for yard debris. Lately, many customers count themselves fortunate if they see even one collection of refuse and any collection of the others.
Lindene Patton of Great Falls is one such customer. Patton attended a May 6 meeting of the Great Falls Citizens Association Environment and Parks Committee where Forbes and his colleague Courtney Willis-Banks, a Compliance and Enforcement Supervisor with the Department of Public Works, accepted an invitation to update the Great Falls group on the current status of the situation, hear from citizens, and answer questions.
Considering her experience, Patton was admirably calm and understanding. Patton was one of the residents whose hand went up when Forbes asked "how many here have had their trash sitting out uncollected for more than a week?" Patton's hand went up again in response to Forbes' next question. "How many have waited more than a week and still have that trash sitting outside their home?"
Patton was among a handful at the meeting who have waited two, and sometimes three weeks or longer for her refuse to be collected.
Forbes was sympathetic to the plight of the Great Falls residents who recounted their trash woes, but he did make clear just what the county could – and could not do – on behalf of its citizens.
"We have no say in rates, what a company charges you for services, nor do we have any legal ability to demand refunds or rebates for services you did not receive." The county can suggest resources to inform its citizenry on those matters, but the scope of their authority is limited to health and safety issues resulting from the failure of a trash hauler to collect, and if a licensed hauler fails to collect at least one time per week as is required in the licensing agreements.
"But we aren't just sitting back and doing nothing to get this resolved," he said.
Forbes informed the attendees that the county had reached out to American and a meeting was held with county officials, including Springfield District Supervisor Pat Herrity, and senior management from the waste management company.
"Severe driver shortage is what American says is the main reason for the service disruptions," said Forbes. Although they could not be contacted for comment in time for the publication of this article, American is apparently raising their wages, offering incentives and recruitment bonuses and making other efforts to boost its complement of drivers, but getting up to speed with numbers and training is still taking too long to immediately address the pileup issues many residents are facing.
At the time of the Great Falls meeting, Forbes reported that a consent agreement between the county and the company was in the works, where American would outline the steps it would take to resolve the issues, and the county would set the consequences for failure within its ability to enforce. Forbes also asked for the names and contact information for those "hand-raisers" whose trash still awaited collection.
"Let us see if we can get that taken care of," he said.
The Consent Agreement which Forbes thought would be finalized within a week or so, may now take a bit longer.
At the May 7 Board of Supervisors Meeting, John Cook (Braddock) and Kathy Smith (Sully) jointly asked that the county legal staff review not only the consent agreement, but the entire situation for board discussion during their closed session on May 21.
Cook echoed Forbes' explanation about driver shortages: "Nationwide, there was a shortage of about 48,000 drivers reported as of 2015, and predictions are for greater shortage in the future, but a contract is a contract … If you have to pay your people more, then pay them more," he noted, warning that we may all see an increase in fees for refuse removal before long in order to solve the situation.
Cook also praised county staff for taking the initiative to step in and "help American solve American's problem," but added that while the county would always be willing to assist, "it is [American's] problem to fix."
AT THE SAME BOARD MEETING, Supervisor Jeff McKay added that the upcoming closed session should also review the effect on neighborhood streets and infrastructure and quality of life as more residents abandoned American Disposal for other vendors, sometimes resulting in heavy trash trucks rolling through neighborhoods 5 days per week.
Supervisor Gross, who chairs the Board's Environment Committee, announced that the situation would also be discussed at the committee's June 18 meeting.
"We need to look at capacity as well," said Gross, indicating that waste management in the county was a larger issue.
Supervisor Herrity agreed that the county needed to review its legal options, but expressed the hope that the further discussions and reviews, while important, would not derail the Consent Agreement in progress.
He did remind the Board that other companies were receiving similar complaints, but that while driver shortage may be the main cause, "there isn't a shortage of communications people" and that the companies should be communicating with their customers about disruptions and resolutions.
Herrity also asked that particular attention be paid to "our townhouse communities" who generally don't have trash bins for trash storage and thus may simply have bagged trash left awaiting collection.
While the county helps the company clean up its act, residents are urged to first contact their waste management provider if there are problems. The county has no say in rates or refunds, but if, after contacting the trash company, a resident's trash remains uncollected, or they are concerned about health and safety issues, they may email the county at trashmail@fairfaxcounty.gov to record their complaint and request assistance.