They're coming in low, out of the rising sun, the helicopters at Davison Airfield in Fort Belvoir, and the Mount Vernon residents that live around the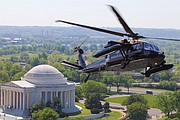 Army base are not happy. The helicopters reportedly fly at all hours and the sound rattles the walls at some residences.
"They fly directly over our roof, you can hear the windows rattling," said Christie Capps, a Lorton resident. "Sometimes it's all night long," she said.
The residents have been vocal about this noise invasion and in January, U.S. Rep. Don Beyer (D-8) was among several local politicians that sent out a release requesting a study of helicopter noise in the Washington, D.C. area. Their goal was to "identify strategies to minimize the negative impacts of helicopter activity without impeding the work of the agencies operating helicopters within the region."
Beyer's office is continuing to pursue a resolution. "Although I was unsuccessful last year, I am again pushing forward legislation in the 2016 National Defense Authorization Act that would review all helicopter flight paths in the National Capital Region, including those used by the Department of Defense, to assess whether some helicopter trips could be at higher altitudes, and if so, revise the official flight maps for the region. I'm also pushing forward legislation that would create a website for feedback and noise complaint recording, and seeking other potential opportunities for noise reduction," he said.
Mount Vernon District Supervisor Dan Storck (D) has heard about it too and works with Beyer's office. Fort Belvoir is a Federal base, and Fairfax County does not have much authority to enforce flight regulations. "We are regularly in contact with Congressman Beyer's office and am currently awaiting information regarding what additional avenues there may be for residents," said Camela Speers, communications director in Storck's office.
According to Joe Richards, director of public affairs at Fort Belvoir, the amount of flights out of Davison has not spiked significantly lately though
"They fly directly over our roof, you can hear the windows rattling." — Christie Capps, a Lorton resident
some residents feel it has. "The Fort Belvoir garrison has not been advised of any specific increase in regular scheduled flights into or out of the airfield. There are training requirements that are necessary to maintain proficiently, also unscheduled special missions are required that may appear to suggest that there is an increase in scheduled activity," he said in an email.
Richards continued: "Davison is committed to being a good neighbor to the surrounding communities, users of Davison Army Airfield exercise leadership in achieving an appropriate balance between efficiency, technological practicability, and environmental concerns, while maintaining the highest level of safety in efforts to minimize aircraft noise while operating within the Davison Army Airfield local flying area."
HELO HISTORY
Davison Airfield is on Fort Belvoir land between Richmond Highway and Telegraph Road. It was named for World War II aviation engineer Brig. Gen. Donald Angus Davison, according to information on Wikipedia.
The airfield provided support for Army One from 1957 to 1976 for presidents Dwight Eisenhower, John F. Kennedy, Lyndon Johnson, Richard Nixon, and Gerald Ford. Its role of support for the presidential helicopter ended in 1976 when responsibility for the helicopter was transferred to the United States Marine Corps. The Civil Air Patrol National Capital Wing uses a small tower for use during exercises and flights, and bases four small airplanes there, the Wikipedia page stated.
"Presently, the Army conducts continuous airfield and transportation operations in support of the National Capital Region, and Military District of Washington," Richards said.
SHARING CONCERNS
On "Nextdoor Newington," an interactive website where residents discuss various issues, the helicopters at Davison has caused a stir, even pitting some residents against one another. Responses came from Lorton Station, Terra Grande, Pohick Estates, Newington and Lorton. "I moved here 25 years ago and it was so quiet I didn't even know Davison was there for years. And in all these years, I've never heard air traffic as bad as it has gotten in the past year," said one resident. "Military helicopter traffic is heavy this morning and some are flying just above the treeline," said another.
Then there was the airfield supporters. "Sorry — lived here all my life and my husband and I thoroughly enjoy this. We sit on our deck, identify each type and wave as they go overhead," said one.
"Maybe you shouldn't have bought a house near a military airfield if noise bothers you," said another. The banter went back and forth.
"It's perfectly normal for people to speak up and to complain about something that's bothering them in the community, in their own homes," someone stated.
Capps is part of Nextdoor Newington too, and was among a few on Nextdoor that were called "unpatriotic," but felt that was a little much. "We should be able to live peacefully in our home," she said.
The comments continued: "I used to command the unit that is at Davison Army Airfield and flew the same helicopters you are complaining about. The airfield has been there long before Laurel Hill was a thought. Frankly it's not that loud. I echo what everyone else has said. Get over it. Move. Something."
Joan Johnson is part of Nextdoor Newington, and communicated with Fort Belvoir in 2013 about the same issue, which she says has gotten better since then. The spokesperson at Fort Belvoir at that time said "the operators tell me that, while it appears the aircraft are flying low, they are in fact at or above flight level."
On the Fort Belvoir website, it states that "the Community Relations Branch is responsible for all aspects of the command's community relations program to include developing understanding and support of the missions and functions of Fort Belvoir and being good neighbors by fostering relationships and understanding the needs of surrounding communities." Capps feels that this can be resolved with the flight situation going back to the way it was a few years ago with limited hours and adjusted altitude requirements. Maybe the helicopters could limit to flying over Fort Belvoir land, she thought. These are on Beyer's list too.
Her house location isn't that close though. "It's much worse for some people," she said.