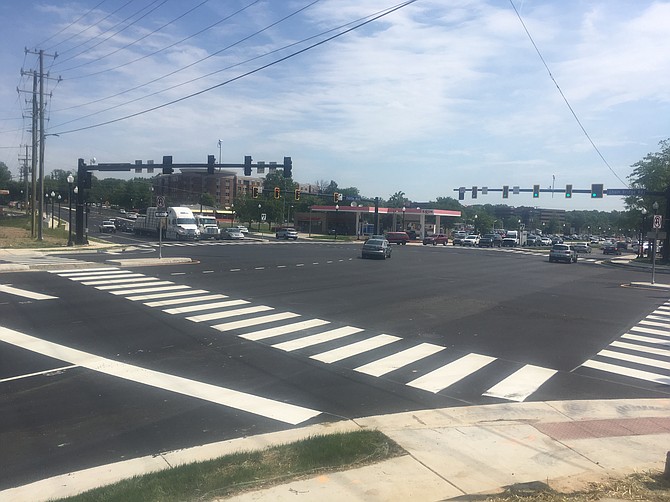 A few years ago, rainfall made the stretch of Accotink Creek in the City of Fairfax a white-water challenge, and a local adventurist with an inner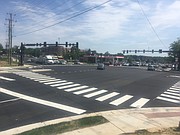 tube rode the rapids down the creek. For the past 2.5 years, local officials have embarked on a project called "Northfax," that addressed the creek, the intersection, and turn lanes making it easier for everyone through this intersection except the thrill-seeking adventurist.
"He took an inner tube and rode the rapids, that will never happen again," said Mike McCarthy, communications director for City of Fairfax. McCarthy was among the crowd on May 20 when they cut the ribbon on this $42.5 million project.
"We had so much bad flooding here, this project has been 20 years in the making," McCarthy said.
Northfax includes amenities for traffic and pedestrians by eliminating flooding with a new box culvert from Chain Bridge Road to Eaton Place; widening of Chain Bridge Road to six lanes between Fairfax Boulevard and Eaton Place; improved turn lanes on all approaches; upgraded traffic signals and mast arms, new sidewalks throughout the project area; and upgraded pedestrian accommodations at intersections.
"Travelers and residents will continue to benefit from these improvements," City of Fairfax Mayor David Meyer added. "As part of the FY2015-16 NVTA funding program evaluation process, analysis led by VDOT, it was projected that Northfax Intersection improvements will save a total of 450,000 plus person-hours of delay by 2040." Mayor Meyer also noted the impact this project has locally. "We have a fire station just down the road, synchronizing the signals is important," he added.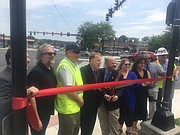 The Northern Virginia Transportation Authority contributed $15 million, $14 million came from the Virginia Department of Transportation, $9.5 million of Federal funds and $3.5 million from the City of Fairfax. Branch Construction and Volkert Engineering were contracted to do the design and construction.
NVTA Chair Martin E. Nohe remembered the intersection from 30 years ago when he attended George Mason University, and noted how traffic plays such a big role in everyone's life. "Traffic congestion invades every conversation," he said.
Over across the way from the festivities and ribbon cutting, Jagpal Ranjit continues to serve customers at the Bombay Bistro, where the Mayor dines once in a while. Ranjit saw the flooding impacts, especially this past year with the record rainfall. "When there is a heavy rain these two lanes, you cannot see," he said, pointing to southbound Chain Bridge Road right out front. With the wider intersection and stream work, the flood situation is better but the entrance to the Bombay parking lot comes up quick for cars pulling in. "Very dangerous," he said.
City resident Maryann Clary called the old intersection "huge, huge mess," but now "you can see a big difference already," she said.