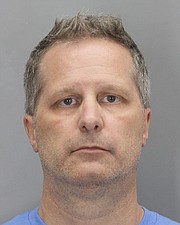 For 30 years, Norman Achin was a respected teacher in Fairfax County high schools, including both Westfield and Chantilly. Now, though, he's also a convicted felon.
After a two-day trial last week in Circuit Court, he was found guilty of using a communication device to solicit a minor. As a result, Achin, 51, of Woodbridge, will face as much as 10 years in prison when he returns in August for sentencing.
During a police interrogation following his July 23, 2018 arrest, he said he was only trying to help a troubled boy he'd met online and believed was just 14. He also claimed a pornographic photo he'd sent the teen reached him accidentally and was actually meant for someone else.
But neither the prosecutor nor the judge bought it. "The defendant's testimony wasn't particularly credible," said Assistant Commonwealth's Attorney Elena Lowe. "And when he sent the picture, he knew who he was talking with, consistent with their text messages."
In 2017-2018, Achin taught Latin at both Westfield and West Springfield high schools. Before then, he did so at Chantilly and McLean high schools. He even tutored – often in students' homes. But his own, extracurricular activities got him into trouble and, after his arrest last summer, FCPS suspended him without pay.
THE GRAND JURY indicted Achin in November 2018, and the details of his offense were revealed, last Monday and Tuesday, Aug. 20-21, during his nonjury trial in Circuit Court. Testifying against him was a male, police detective with the FCPD's Child Exploitation Unit. When he and Achin made contact via the Grindr app, the detective was posing online as a teenager named Alex, hoping to catch predators preying on children. To protect his undercover status, this newspaper is not revealing his identity.
The detective told Achin his father was gone, his mother lived out of state, and his aunt – who worked nights – watched him. He also said he was in high school and would be "15 very soon. I used abbreviations, misspellings and emojis, like teens do, and was kind of emotional." The court heard a phone call between them, saw transcripts of their text messages and Grindr exchanges and also saw a 2-1/2-hour video of the detective's interrogation of Achin following his arrest.
Achin, himself, went by his middle name, Mike, during their online conversations, which ran from July 11-23, 2018. "I'm very concerned about your age," Achin told "Alex." Achin also asked if they could meet, "at a McDonald's, or something," during the day so they could talk in person."
"Just talk?" asked "Alex?" Replied Achin: "Well, maybe more."
"I've never done this before, so I'm nervous," said "Alex." To which Achin answered: "Me, too. I could get in trouble, even for what we've done so far."
They eventually arranged a meeting in an Annandale park where, instead, police arrested Achin. During his interrogation, Achin said, "I was not soliciting a minor. Alex answered my [Grindr] ad and, initially, I was interested, until I heard his age – 14.
"I've been a teacher a long time, and this boy said his mother and father left, so he lived with an aunt. And every school I've been at, with kids like this, they've committed suicide. I was looking for some kind of relationship, but not with a boy. I really did want to help him."
Achin said he'd hoped to meet with Alex and tell him he was "too young to do this. I was also talking with other people [on Grindr and Tinder] and I got confused between the sites I was on. I didn't want anything from him – 18 or 19 years old, fine – but not a kid." He said he worried that Alex might kill himself, so he "wanted to talk to him, maybe as a father figure, because I thought this was a fragile, young man."
However, Achin also sent two photos of himself to "Alex" – one showing his bare torso and abs, and the other, his penis. Saying he could only access Grindr on his phone, not his computer, he told the detective, "I couldn't see the pictures I sent, at times, so sent the wrong pics to the wrong people at the wrong time." He said he thought he'd sent the penis photo to a man, not "Alex." (But in court, Lowe noted that Achin never apologized to "Alex" or said he'd sent it by mistake).
Achin said he worried that such a young teen was on Grindr. "I'm not proud of my judgment here, but I was really concerned," said Achin. "I told him I was worried he might get taken advantage of…I know about sexual abuse – I've been abused, myself."
Eventually, "Alex" said to him, "You want to be with me, or you don't."
The detective then asked Achin, "Why didn't you say, 'Alex, you misunderstood me; I don't want to be with you that way'?"
"I thought I'd clear this up with a single phone call," replied Achin. "I probably shouldn't have contacted him again, [but] I thought, maybe he'd freak out."
THE DETECTIVE also asked Achin if he was attracted to children or watched child porn, and Achin – who has an ex-wife and a daughter – said, "No, I would find that revolting. I like women; I'm just trying to experiment on the other side."
Then, apparently still not realizing "Alex" wasn't real – or, at least, trying to make it seem that way – he asked the detective, "Is this kid OK?" The detective answered affirmatively, and Achin said, "I wasn't going to do anything physical [with him]. I was only interested in talking to him as someone vulnerable."
"I don't think he really wanted sex," continued Achin. "Sometimes, if you talk to [teens] as an adult, you can say, 'You [just] want someone to talk to and to care about you.' I wanted to tell him this was inappropriate and couldn't go anywhere. I told him, 'I could get in a lot of trouble; I'm taking a big risk.' I wanted to resolve this; I [was] in a position of trust with children."
But, referring to the photo that the trim Achin sent to Alex showing his abs, the detective asked, "Is this an appropriate picture to send a 14-year-old boy?" Achin said he couldn't see it when he sent it, but the detective stressed that Achin never corrected it or told "Alex" he'd sent the wrong photo.
Furthermore, he said Achin already acknowledged he knew it was "Alex's" account, from his photo. "If you thought this kid was in trouble, you never contacted his aunt," said the detective. "And he never made any reference to killing himself."
Noting he didn't say sexually explicit things to "Alex," Achin said, "I'm not an evil person." When he testified in court last Tuesday, his attorney, Stephen Sheehy, asked if Achin had requested to be alone with Alex. "No," replied Achin. "If I were to meet him, I wanted a public place."
During closing arguments before Judge Michael Devine, Lowe said, "You can clearly see how pictures are sent, and the name of the person [receiving them]. He never said how concerned he was to 'Alex.' I ask you to find him guilty."
Sheehy said there was no solicitation and Achin "never wavered in maintaining his innocence. This was entrapment; we ask you find my client not guilty."
But, added Lowe, "The detective was just doing his job. There's salacious content; [Achin] sends a picture of his penis twice to someone he knows is a minor. His statements [about] trying to help this boy were just a cover."
Ultimately, Devine agreed with her, found Achin guilty and set sentencing for Aug. 16. Until then, he's free on bond, provided he has no contact with children.