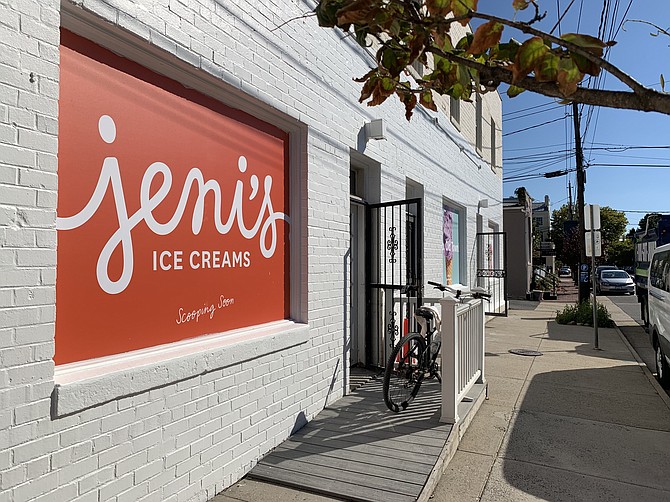 The weather may be turning chilly and you've put your short-sleeved shirts away, but for Jeni Britton Bauer, there's always room for ice cream, no matter what time the sun goes down. The newest outpost of her ice cream shops, Jeni's Splendid Ice Creams, opens this week along Route 1 near King Street in Old Town, and Bauer couldn't be more ready.
"We go where our customers are," Bauer said. Over time, Jeni's has received multiple requests for an Alexandria location, and after the beloved Misha's coffee shop moved to a new location, the storefront seemed like a natural fit.
"When it clicks, we kind of just know it," Bauer said.
The Old Town shop will be the 39th installation of Jeni's Ice Creams, joining its District of Columbia sister location as well as shops fanning out nationwide. The company has been in business since 2002, launching first in an Ohio farmer's market before growing into storefronts from state to state. And over time, the focus hasn't changed: Jeni's has stuck to its core competencies, much to customers' delight.
"What we are known for is ice cream. We don't really get into much else," Bauer said.
The finished product benefits from its homemade origins – ice cream made from scratch with no stabilizers, high-fructose corn syrups, or other unnatural additives.
What stems from such beginnings is a sweet treat that teems with richness, an ice cream that is long on rich flavor.
"Together we all make something greater than the sums of its parts," Bauer said.
And "fast food" this is not. Best devoured from a cone, "all of our ice creams are made for licking and for eating slowly," Bauer said. Jeni's waffle cones are so popular that the shop has to keep three waffle-cone irons going to match demand, she said.
One of Jeni's top flavors, Bauer said, is the brown butter almond brittle. A handmade brittle caramelized with almonds in a butter ice cream, it's "so delicious," she said. And a bit of trivia to go along with dessert: The flavor was inspired by author Roald Dahl and his favorite flavor growing up in Norway.
While the Alexandria location officially opens its doors Nov. 13, it will be in a soft opening phase for the better part of a month. Bauer considers it a "practice month" before the grand opening, which will take place in December.
"We still are a very small company, we all know each other; I'll be very close with that team," she said.
IF YOU GO
Jeni's Splendid Ice Creams, 102 S. Patrick St.
Soft opening: Nov. 13
Try this: The dairy-free Texas sheet cake. "It is so delicious; we're really, really good at our nondairy ice creams, even dairy lovers love them," said owner Jeni Britton Bauer.
Hope Nelson owns and operates the Kitchen Recessionista blog, located at www.kitchenrecessionista.com. Email her any time at hope@kitchenrecessionista.com.