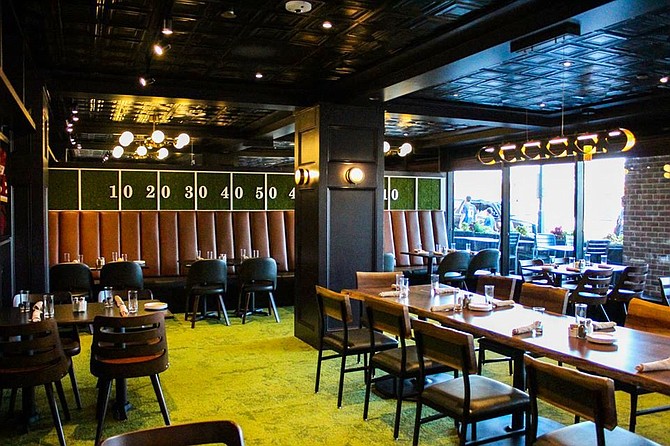 Alongside the gratitude for the day, Thanksgiving is known for its feast. But sometimes, it's more fun to enjoy the comforts of home with none of the cleanup. Alexandria's restaurant scene offers up a multitude of options for families to enjoy with no muss, no fuss (and, let's face it, more creative offerings than you'd have going at home). Here are some of your best bets for this Thursday.
Joe Theismann's, 1800A Diagonal Road
The newly renovated sports pub across from the King Street Metro is keeping its Thanksgiving traditions alive for another year. With a three-course menu that has multiple offerings, Theismann's provides everything from tried-and-true favorites to some new takes on the holiday. Start off with crab and roasted corn fritters or chilled fall spinach dip, then dig into turkey breast, pan-roasted trout or sorghum-glazed roasted pork loin. Finish things off with – what else? – pumpkin pie or apple crumble. $29 per person.
The Majestic, 911 King St.
The restaurant known for its family-style Sunday Supper is pulling out all the stops for Thanksgiving. Kick things off with a relish tray to share and then dive straight into a first course of butternut squash soup or salad; then, for an entrée, take your pick of five options, ranging from seared halibut to autumn carbonara. The table will share two sides (pick from cornbread stuffing, truffled mac and cheese, sweet potato mash and braised mustard greens) before heading into dessert (the cajeta ice cream sounds divine, but some more traditional options are in place too). $59 per adult; $25 for children 10 and under.
Carlyle Club, 2050 Ballenger Ave.
The jazz and supper club located smack-dab in the middle of the Carlyle neighborhood is offering two seatings for the holiday – with musical accompaniment by the Satin Doll Trio to provide some extra flair to the day. At 1 and 4 p.m., guests can sit down to dinner and feast on lobster bisque or salad to start; turkey with all the fixings or sea bass with potato cake and green beans; and pumpkin or apple pie for dessert. $55 for adults; $14.95 for children 12 and under. Reserve tickets online at thecarlyleclub.com.
Blackwall Hitch, 5 Cameron St.
Take in some lovely views with your Thanksgiving menu at Blackwall Hitch on the waterfront. Unlike many other area restaurants offering prix-fixe menus, Blackwall Hitch is opening up a buffet for the occasion, giving diners a multitude of choices all in one place. Oven-roasted turkey, roast beef and ham round out the main events, but they're accompanied by a bevy of sides ranging from stuffing to crispy salt and pepper Brussels sprouts; from butter-whipped mashed potatoes to creamy macaroni and cheese. A passel of pies and cakes rounds out the proceedings – followed, perhaps, by a nice long walk along the Potomac to burn off some of those calories. $42 for adults; $18 for children 12 and under. 11 a.m.-6 p.m.
Hope Nelson owns and operates the Kitchen Recessionista blog, located at www.kitchenrecessionista.com. Email her any time at hope@kitchenrecessionista.com.