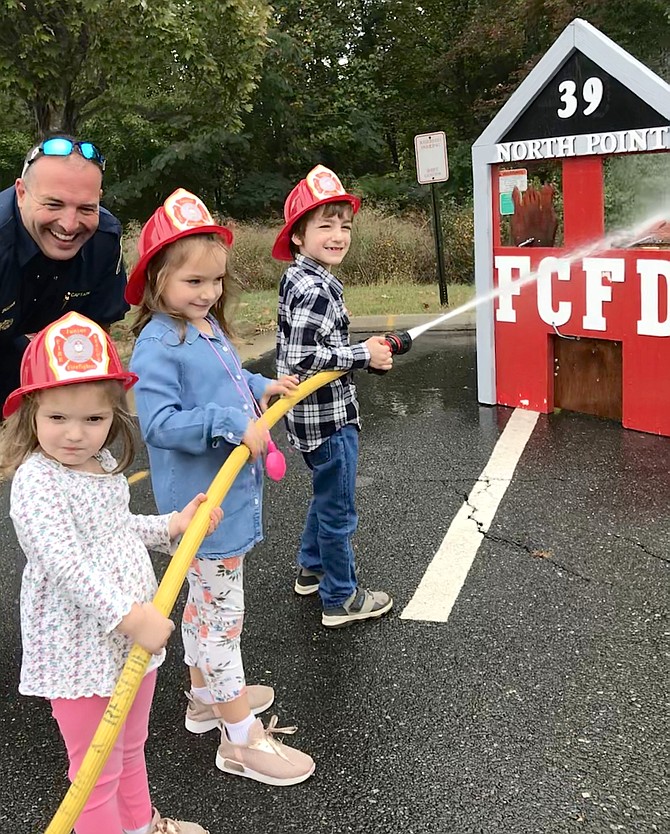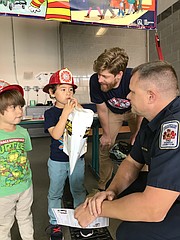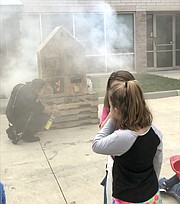 "In a typical home fire, you may have as little as one to two minutes to escape safely from the time the smoke alarm sounds. Escape planning and practice can help you make the most of the time you have, giving everyone enough time to get out," according to National Fire Protection Association (NFPA).
On Saturday, Oct.r 12, in support of NFPA's 2019 campaign, "Not Every Hero Wears a Cape. Plan and Practice Your Escape!" Fairfax County Fire & Rescue Department hosted an Open House from 10 a.m.–4 p.m. at each of its 38 stations.
For firefighters at Station 39 North Point that serves Reston, Herndon, Great Falls and beyond and Station 4 Town of Herndon, as well as other stations, the daylong event provided an opportunity to educate children and adults about the importance of fire safety, planning and drills.
"This is the best part, interacting with the public, teaching the children," said Captain Patrick Sheehan of North Point, Station 39. Various hands-on activities, as well as demonstrations, supported fire safety knowledge and NFPA's 2019 campaign. Children aimed a real firefighter's hose at painted wooden flames and soaked them with blasts of water. Fairfax County firefighters set kindling ablaze to demonstrate the effectiveness of fire suppression sprinklers and set fire to a small-scale, multi-compartment dollhouse-like structure to recreate fire behavior, flashback and effective door control.
THE DAMAVANDY FAMILY of Great Falls, mom Tania and children Max, 7, Layli, 5, and Arya, 3, tried out the fire hose. It took a concentrated effort by all three children to knock down the simulated fire. "It's an annual tradition to come here. …[The event provides] good reminders for fire safety," said Tania Damavandy.
Sheehan explained to a group of children and adults that those caught in a home fire may have at the most two minutes to escape after the smoke detectors sound. He cautioned smoke could make things dark and confusing and urged attendees to "stay low, get out and stay out." Sheehan added everyone should know two exit paths to the outside from every room in the house and have an outside meeting place.
To simulate the real-life experience of trying to get out of a smoke-filled home but in a controlled monitored environment, nearby a large shed emitted smoke from its rafters. "Want to come in and see what it's like?" beckoned Sheehan. Created by Bill Coburn, Technician at Station 39, the smoke house allowed participants to experience first hand the effects of low-visibility and the reality of the need to train and train frequently. Inside claustrophobic, white smoke obliterated the walls and made actual exit hallways appear like walls. The exercise impressed Lou Peon of Reston, who brought his two young children Parker and Mason. "This is our second time here. The smoke house was really interesting. You think you have more time than you do," he said.
At Station 4 in the Town of Herndon Zain Baig, 5, of Herndon contemplated what Captain Robert W. Kitchen had just told him and his mother about fire spreading and the need for the household to make an exit plan and practice it. "I plan to go down the steps, to the door, exit outside, and meet at the car," said Zain.
Bryce Perry of the Town of Herndon reconsidered his ability to get himself and his family out of the home safely during a fire. Perry acknowledged the need to be more proactive. "This event is getting me thinking about how much we should be preparing. I think we will have a drill," he said as he looked down at his two young sons, Ronan and Samuel.
According to Kitchen, there are approximately one to two house fires a day in Fairfax County.
FAIRFAX COUNTY RESIDENTS can get free battery-powered smoke alarms by contacting the local Fairfax County Fire and Rescue Department station or by submitting the completed form found at www.fairfaxcounty.gov/fire-ems/free-smoke-alarms. After the request is received, contact will be made to schedule a visit to the house or apartment, check current alarms, and install new ones. For more information, call 703-246-3801 or email fire.smokealarms@fairfaxcounty.gov.