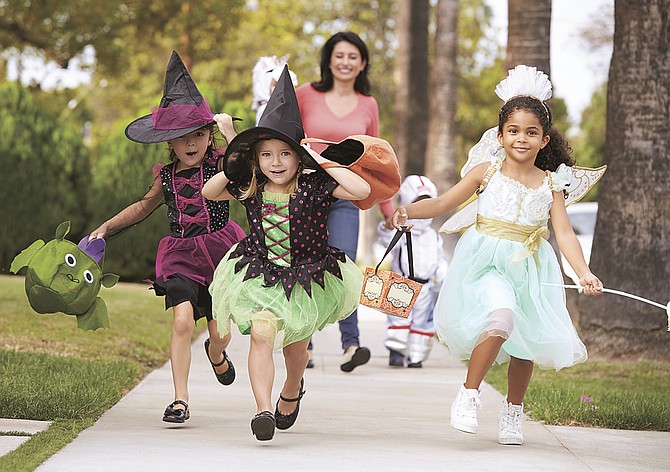 From princesses to superheroes, within the next two weeks, as Halloween approaches, many children will be choosing a costume. As children express their creativity with the help of wigs and light sabers, public safety advocates are encouraging caution both in costume selection and mapping-out a Halloween night route.
"There are several components to safety; first make certain the costumes are well-fitted so they aren't a tripping hazard," said Tammy Franks, senior program manager for Home and Community Safety at the National Safety Council. "Instead of masks that could obstruct their view, try using non-toxic face point."
It's possible to use face paint that it free of toxins, but doesn't sacrifice a creative disguise, says Aieda Turner of costume supply store Total Fright in Arlington. "Mehron face paint is completely safe and it's made of aloe vera and cucumber and doesn't have any alcohol which can irritate a child's skin," she said. "Almost all children's costumes made now, even elaborate costumes, are fire resistant."
When children are trick-or-treating without a parent, says Franks, drivers should be able to see children, especially if they are wearing a dark costume. Adding glow-in-the-dark or reflective tape can help. "Children should carry a flashlight or glow stick so that they can see and be seen," she said. "Parents should make sure that the costume is flame resistant and they should add a reflective component."
The costume itself shouldn't have accessories that pose hazards, says Franks. "For example, if your costume includes a sword or knife, make it out of foam or cardboard or something flexible," she said.
When out-and-about trick-or-treating on Halloween, retired pediatrician Julia Baker, MD, advises parents to accompany children under the age of 12. "Parents know their children best and should use their own judgement when it comes to allowing a child to go trick-or-treating [without an adult]," she said. Parents should make a plan with their child about the route they'll take so they'll know where to find them in an emergency situation. They should also agree on the time when a child should be back at home."
Children should carry a cell phone so that parents can contact them if necessary, says Baker. "Parents should definitely be able to reach their children on Halloween," she said. "As hard as it might be these days, parents should stress to their children the danger of texting and keeping their head buried in their phones while trick-or-treating."
"A common cause of injury on Halloween is tripping and falling, so check that accessories like capes or long dresses fit right above the ankles," said Dr. Steph Lee, MD, MPH, FAAP.
Pediatrician and preventive medicine specialist, American Academy of Pediatrics.
"Children of all ages should have your emergency contact information either written down or in their phone and know how to dial 9-1-1, in case they get lost or have an emergency," said Lee.
Staying in well-lit areas and trick-or-treating with a group of friends can help make Halloween activities safer. "The same basic rules of pedestrian safety also apply on Halloween," said Franks. "Cross the street in crosswalks, stay on the sidewalk instead of running through yards and walk instead of running when crossing the street so that you don't trip."
"Lots of candy may have peanuts," said Lee. "If your child has allergies... talk with your child about letting you check candy ingredients before they eat anything.
"If your child has the self-control, save all the eating until you get home, where you can sort through and check ingredients," said Lee. If your child has a risk of anaphylaxis, make sure to carry an epinephrine injector, such as an EpiPen, while trick or treating, and discuss with your doctor if you need a refresher on how to use it."