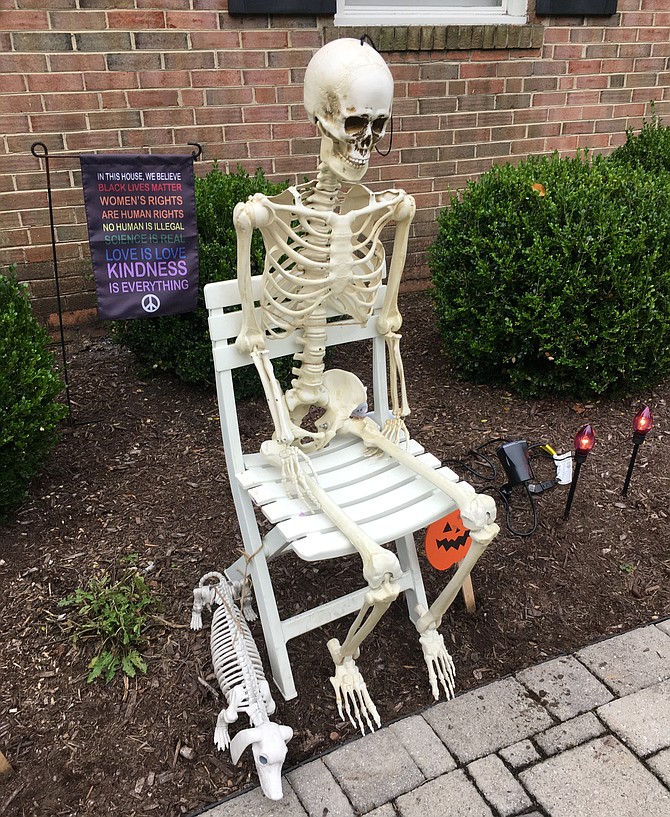 Halloween, a witch's brew of fun and fantasy, will need a new recipe for this year. Covid-19 requires changes to the usual way of celebrating.
As Halloween approaches, Montgomery County officials are offering advice on how to minimize risks associated with the holiday. Parties, costume parades and trick or treating with friends do not allow people to minimize contact with non-household members so those are traditions to reconsider. Face masks and social distancing are other factors changing Halloween traditions.
County guidelines remind residents that it is important to plan early and identify safe practices to avoid the risk of spreading COVID-19.
Door-to-door trick-or-treating is not recommended by either Montgomery County or the Centers for Disease Control, nor is "trunk-or-treating," where children go from car to car instead of door to door.

What are goblins, ghosts, princesses and superheroes and their parents to do?
Potomac resident Lindsay Thompson said she was planning an Easter approach to Halloween.
"I'm going to hide candy in the yard and let the kids go out and find it," she said.
Sons Sawyer, 7, and Reid, 4, will be searching for those goodies in costume.
"I'm going to dress up as Batman," Reid said.
Sawyer has settled on a Pokémon costume.
Kristen Cleaver and her daughter Natalia of Chesapeake Beach, MD were in Potomac for lunch after hiking at Great Falls.
"I'm going to be dressed as a cute little ghost," Natalia, 4, said.
Cleaver said they would probably put Natalia in her wagon and pull her around the neighborhood to look at Halloween decorations to celebrate Halloween.
The current Montgomery County Executive Order on covid-19 does not allow for events or activities of more than 50 people, so large Halloween gatherings, even if held outdoors, are not permitted. Carnivals, festivals, live entertainment, and haunted house attractions are not allowed unless granted a letter of approval.
To promote a safer environment for children and families, the county is recommending the alternative ways to celebrate Halloween this year:
Online parties/contests (e.g. costume or pumpkin carving);

Decorating homes, yards, and neighborhoods with Halloween-themed decorations;

Car parades such as drive-by events or contests where individuals dress up or decorate their vehicles and drive by "judges" that are appropriately physically distanced.
For other suggestions visit the County website: montgomerycountymd.gov.
"Regardless of how you choose to celebrate Halloween, it is important to:
correctly wear a cloth face covering … avoid confined spaces. Actively stay away from indoor spaces that do not allow for easy distancing of at least six feet between you and others… wash or sanitize your hands often…clean frequently touched items regularly; and if you are sick, or you have been in contact with someone who is sick with covid-19 or has symptoms of covid-19, stay home and away from others," the county advises.
Montgomery County guidelines are closely aligned to those of the Centers for Disease Control.
Sami Snow, 13, said she planned to dress in costume – to be decided – and watch Halloween movies with one or two friends.
Her brother Jake, 11, wanted to be sure the family would have a pumpkin to carve.
"I just want the seeds," he said. "We'll roast them, and I like to eat them."
Sami and Jake's mother, Nina, admitted that Halloween would be different this year. She was nostalgic about parties she and her husband went to in past years.
The parties had a theme, she said.
"The pirate party was most fun," she said. "I went as a parrot."
Then she told about the karaoke party, where guests dressed as singers, and also the James Bond party.
"They are good memories," she said. "I hope we can do it again."
Maybe next year.
In addition to the County suggestions, the CDC website adds:
Do not use a costume mask (such as for Halloween) as a substitute for a cloth mask unless it is made of two or more layers of breathable fabric that covers your mouth and nose and doesn't leave gaps around your face.

Do not wear a costume mask over a cloth mask because it can be dangerous if the costume mask makes it hard to breathe. Instead, consider using a Halloween-themed cloth mask.
The website also offers suggestions for lower risk activities can be safe alternatives:
Carving or decorating pumpkins with members of your household and displaying them

Carving or decorating pumpkins outside, at a safe distance, with neighbors or friends

Decorating your house, apartment, or living space

Doing a Halloween scavenger hunt where children are given lists of Halloween-themed things to look for while they walk outdoors from house to house admiring Halloween decorations at a distance

Having a virtual Halloween costume contest

Having a Halloween movie night with people you live with

Having a scavenger hunt-style trick-or-treat search with your household members in or around your home rather than going house to house.