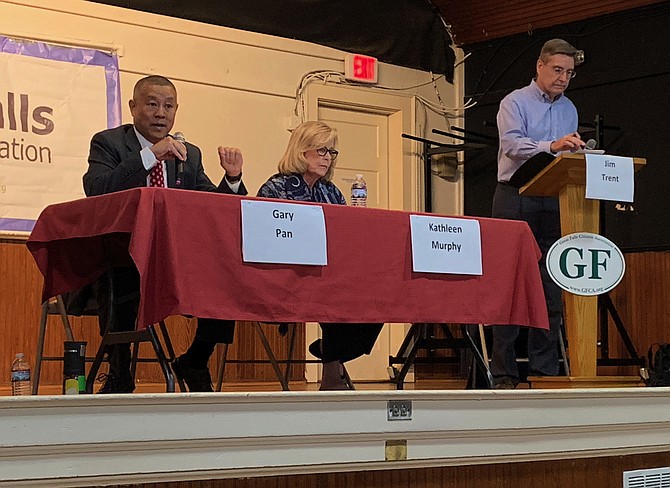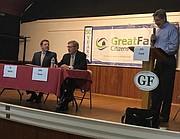 The Great Falls Citizens Association (GFCA) recently hosted a well-attended Town Hall Debate with candidates who will be on the Nov. 5 ballot, so residents could hear firsthand from them about their outlook and plans. Candidates delivered short opening and closing statements and then took questions collected from the audience by the moderator. The audience asked about a wide range of state and local issues, including questions on stormwater management, developers who do not adhere to zoning agreements, gun control, the county's One Fairfax policy, educational priorities, tax rebates, transportation, including widening of Route 7, expanding use of marijuana, and plans for more affordable housing.

The debate was held at the Grange on Oct. 16 with candidates for: Delegate in the 34th District—Kathleen Murphy (D) and Gary Pan (R); Dranesville District Supervisor—John Foust (D) and Ed Martin (R); and State Senator in the 31st District—Barbara Favola, with no opponent on the ballot. At the forum, a resident announced a write-in candidate for this office, Great Falls resident Craig Perisot.

In September, GFCA sponsored a debate with Fairfax County Public School Board candidates at Forestville Elementary School. The candidates included the three Dranesville District candidates for the Fairfax County School Board and five of the six candidates for the three At-Large seats. Go to www.GFCA.org for more details and links to the videos of the debates.