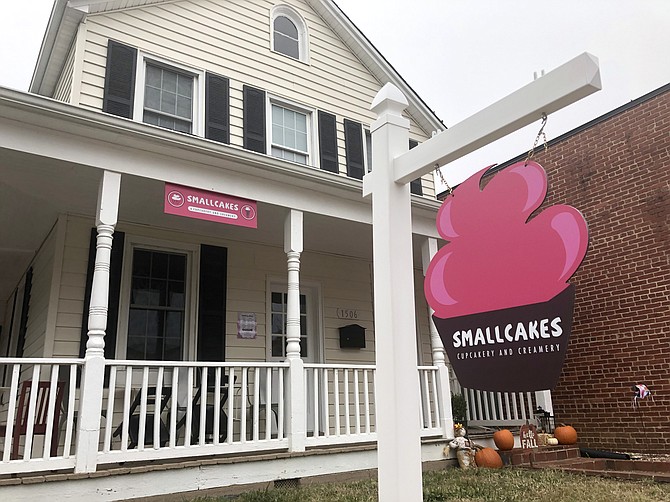 Any sweet tooth in Alexandria would agree: There's always room for more cupcakes. And Del Ray is in luck. A new outpost of Smallcakes has set up shop in a cute little house-turned-business along Mount Vernon Avenue, baking up fresh batches of multiple flavors daily for neighbors and friends to latch onto.
"It was just a blessing" to get the space, said owner Breanna Perez. Since July 2018, Perez had owned a Smallcakes shop in Pentagon Row, but always had an eye on Alexandria as a more permanent destination. An Alexandria resident herself, the move was a natural fit.
And so was Del Ray: "I was looking in the Old Town area first but of course there's a lot of ice cream shops there, there's two cupcakes shops," she said. Once the space on Mount Vernon Avenue became available, Perez jumped at the chance.
Smallcakes may be a national brand, but franchisees have the freedom to make each shop how they want it, Perez says.
"Although we're a franchise, they allow us the flexibility to get creative and try different things even if they're not in the recipe book," she said. Therefore, guests can taste an homage to Perez's Puerto Rican heritage in some of the cupcake flavors that include Puerto Rican eggnog and more.
And Perez says her customers are always up to try something new.
"People are pretty open. Our most popular that we did throughout the year was pumpkin; sweet potato went really well," she said.
But though some Smallcakes flavors border on the exotic, the tried-and-trues also keep customers coming back for more.
"I like the strawberry and the peanut butter cup. Which is weird because I'm not really a peanut butter person," Perez laughed. What pushes the peanut butter concoction over the edge, she says, is the Reese's sauce she uses in the recipe.
Along with cupcakes, Del Ray's Smallcakes offers homemade ice cream in a variety of flavors. And canine companions aren't left out, either – the shop's "pupcakes" have already proven to be a hit with Del Ray's dog-friendly neighbors.
"(Before the Del Ray shop opened), we had never made that many in a day, we'd never sold that many in a day," Perez said.
Smallcakes' grand opening will take place in mid-November, Perez said, and will feature a visit by corporate owner Jeff Martin, a contestant on the Food Network's "Cupcake Wars."
IF YOU GO
Smallcakes, 1506 Mount Vernon Ave.
Hours: 11 a.m.-8 p.m. Tuesday-Wednesday; 11 a.m.-9 p.m. Thursday-Saturday; 11 a.m.-5 p.m. Sunday.
Try this: "We do a red velvet ice cream, which has our cream cheese frosting in the actual ice cream and then we put red velvet crumbles in it," said owner Breanna Perez.