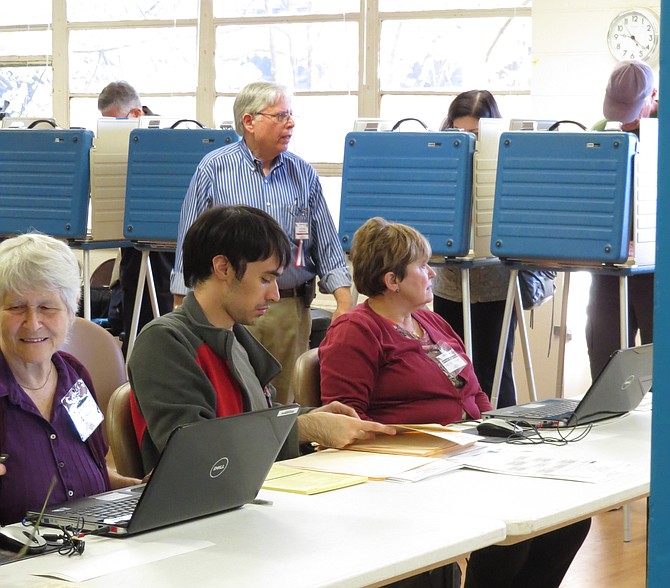 Nov. 2 Final day to vote absentee in-person, 5 p.m.

Nov. 5: Deadline for your absentee ballot to arrive at the Office of Elections, 7 p.m.

Nov. 5: Election Day, Polling Places open 6 a.m. to 7 p.m.
Fairfax County Office of Elections

Hours: Monday-Wednesday, Friday 8 a.m.-4:30 p.m.; Thursday, 8 a.m.-7 p.m.
12000 Government Center Parkway Suite 323
Fairfax, VA 22035
703-222-0776 TTY 711
voting@fairfaxcounty.gov
www.fairfaxcounty.gov/elections/
League of Women Voters of the Fairfax Area:
www.lwv-fairfax.org/
Voter ID Requirements:
Per Virginia law effective July 1, 2014, all residents must provide valid photo identification when they vote in-person. Please consult the VA Department of Elections for the most up to date information regarding acceptable forms of voter photo ID.
Many types of photo ID are acceptable for voting in Virginia. You only need to show ONE acceptable photo ID to vote. Photo IDs can be used to vote up to one year after the ID has expired. Acceptable forms of valid identification: Virginia driver's license, Virginia DMV-issued photo ID, United States passport, Employer-issued photo ID, Student photo ID issued by a school, college, or university located in Virginia, Other U.S. or Virginia government-issued photo ID, Tribal enrollment or other tribal photo ID, Virginia Voter Photo ID card
IMPORTANT: If you get to your polling place without acceptable photo ID, you can still vote. Ask for a provisional ballot. You will be given instructions on what to do so your vote can count.
Offices on the Ballot, Fairfax County
Member Virginia Senate, vote for one in your district
Member House of Delegates, vote for one in your district
Commonwealth's Attorney, vote for one
Sheriff, vote for one
Chairman Board of Supervisors, vote for one
Member School Board at Large, vote for three
Member Board of Supervisors. vote for one in your district
Member School Board. vote for one in your district
Soil and Water Conservation Director Northern Virginia District
School Bonds Referendum
Vote both sides of your ballot. Bring notes on your preferred candidates. It's not simple. We have included party designations and, with reservations, the party endorsements for school board. Most candidates do not have party affiliation listed on the ballot.
Voter Registration and Voter Photo ID Opportunities
The Office of Elections is open during normal business hours to provide residents the opportunity to register to vote or obtain a free voter photo ID if needed.
School Bond Ballot Question
This is the text of the public school bond question that will be on the Nov. 5, 2019, general election ballot:
Shall Fairfax County, Virginia, contract a debt, borrow money, and issue capital improvement bonds in the maximum aggregate principal amount of $360,000,000 for the purposes of providing funds, in addition to funds from school bonds previously authorized, to finance, including reimbursement to the County for temporary financing for, the costs of school improvements, including acquiring, building, expanding and renovating properties, including new sites, new buildings or additions, renovations and improvements to existing buildings, and furnishing and equipment, for the Fairfax County public school system?
Candidates, Fairfax County
Chairman, Board of Supervisors
Jeffrey C. McKay (D)
Joseph F. Galdo (R)
Commonwealth's Attorney
Steve T. Descano (D)
Jonathan L. Fahey (I)
Sheriff
Stacey Ann Kincaid (D)
Christopher F. De Carlo (I)
Board of Supervisors, District Representatives
Braddock District
James R. Walkinshaw (D)
S. Jason Remer (R)
Carey Chet Campbell (I)
Dranesville District
John W. Foust (D) incumbent
Ed. R. Martin (R)
Hunter Mill District
Walter L. Acorn (D) unopposed
Lee District
Rodney L. Lusk (D) unopposed
Mason District
Penelope A. "Penny" Gross (D) incumbent
Gary N. Aiken (R)
Mount Vernon District
Daniel G. "Dan" Storck (D) incumbent, unopposed
Providence District
Dalia A. Palchik (D), unopposed
Springfield District
Linda D. Sperling (D)
Patrick S. "Pat" Herrity (R) incumbent
Sully District
Kathy L. Smith (D) incumbent
Srilekha R. Palle (R)
School Board
School Board At-Large (vote for three)
Abrar E. Omeish (endorsed by Democrats)
Cheryl A. Buford (endorsed by Republicans)
Priscilla M. DeStefano (endorsed by Republicans)
Rachna Sizemore Heizer (endorsed by Democrats)
Vinson Palathingal (endorsed by Republicans)
Ilryong Moon, incumbent (withdrawn)
Karen A. Keys-Gamarra, incumbent (endorsed by Democrats)
Braddock District, School Board
Zia Tompkins (endorsed by Republicans)
Megan O. McLaughlin, incumbent (endorsed by Democrats)
Dranesville District, School Board
Anastasia S. Karloutsos (endorsed by Republicans)
Ardavan Mobasheri
Elaine V. Tholen (endorsed by Democrats)
Hunter Mill District, School Board
Laura Ramirez Drain (endorsed by Republicans)
Melanie K. Meren (endorsed by Democrats)
Lee District, School Board
Tamara J. Derenak Kaufax, incumbent, (endorsed by Democrats)
Mason District, School Board
Ricardy J. Anderson (endorsed by Democrats)
Tom L. Pafford
Mount Vernon District, School Board
Pamela C. Ononiwu
Steven D. Mosley (endorsed by Republicans)
Karen L. Corbett Sanders, incumbent (endorsed by Democrats)
Providence District, School Board
Andrea L. "Andi " Bayer (endorsed by Republicans)
Jung Byun
Karl V. Frisch (endorsed by Democrats)
Springfield District, School Board
Laura Jane H. Cohen (endorsed by Democrats)
R. Kyle McDaniel
Elizabeth L. Schultz, incumbent (endorsed by Republicans)
Sully District, School Board
Stella G. Pekarsky (endorsed by Democrats)
Tom A. Wilson, incumbent (endorsed by Republicans)
Soil and Water Conservation Director Northern Virginia District
Vote for Three
C. Jane Dudik (endorsed by Republicans)
Chris E. Koerner (endorsed by Democrats)
Christopher A. Bowen (endorsed by Republicans)
Edward F. McGovern (endorsed by Republicans)
Jonah E. "Jet" Thomas
Monica A. Billger (endorsed by Democrats)
Gerald Owen "Jerry" Peters Jr., incumbent, (endorsed by Democrats)
Candidates, General Assembly
House of Delegates
District 34
Kathleen J. Murphy (D), incumbent
Gary G. Pan (R)
District 35
Mark L. Keam (D), incumbent, unopposed
District 36
Kenneth R. "Ken" Plum, incumbent, unopposed
District 37
David L. Bulova (D), incumbent, unopposed
District 38
L. Kaye Kory (D), incumbent, unopposed
District 39
Nick O. Bell (R)
Vivian E. Watts (D), incumbent
District 40
Dan I. Helmer (D)
Timothy D. "Tim" Hugo (R), incumbent
District 41
Eileen Filler-Corn (D), incumbent
John M. Wolfe (I)
Rachel D. Mace (L)
District 42
Kathy K. L. Tran (D), incumbent
Steve P. Adragna (R)
District 43
Mark D. Sickles (D), incumbent
District 44
Paul E. Krizek (D), incumbent
Richard T. Hayden (R)
District 45
Mark H. Levine (D), incumbent, unopposed
District 46
Charniele L. Herring (D), incumbent, unopposed
District 47
Patrick A. Hope (D), incumbent, unopposed
District 48
Richard C. "Rip" Sullivan (D), incumbent, unopposed
District 49
Alfonso H. Lopez (D), incumbent
Terry W. Modglin (I)
District 53
Marcus B. Simon (D), incumbent, unopposed
District 67
Karrie K. Delaney (D), incumbent, unopposed
District 86
Ibraheem S. Samirah (D), incumbent, unopposed
Virginia State Senate
District 30
Adam P. Ebbin (D), incumbent, unopposed
District 31
Barbara A. Favola (D), incumbent, unopposed
District 32
Janet D. Howell (D), incumbent
Arthur G. Purves (R)
District 33
Jennifer B. Boysko (D), incumbent
Suzanne D. Fox (R)
District 34
J. C. "Chap" Petersen (D), incumbent, unopposed
District 35
Richard L. "Dick" Saslaw (D), incumbent, unopposed
District 36
Scott A. Surovell (D), incumbent, unopposed
District 37
Dave W. Marsden (D), incumbent, unopposed
District 39
George L. Barker (D), incumbent
S. W. "Dutch" Hillenburg (R)