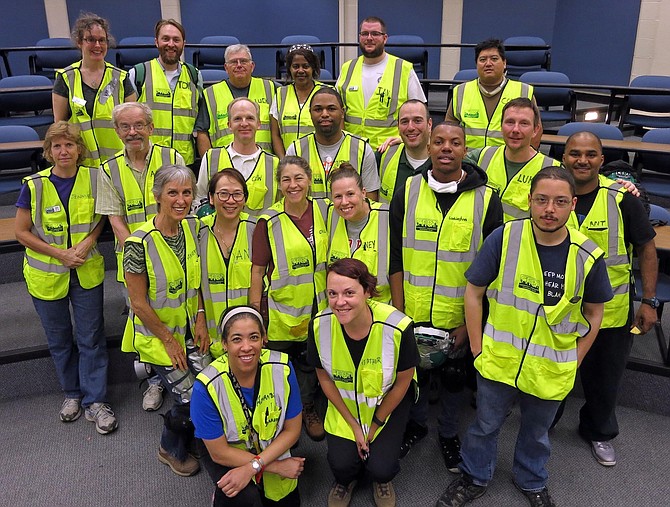 Community Emergency Response Team (CERT) training is a challenging fun and free program brought to you by Fairfax County Fire and Rescue and sponsored by the Department of Homeland Security.
Push your personal boundaries. Learn to save lives with duct tape and rags; pull a person from under an 800-pound beam; and use a fire extinguisher.
No cost Community Emergency Response Team basic training follows the FEMA curriculum, and is tailored to address potential local disasters and hazards. The training prepares residents to help themselves, their families, and their neighbors in the event of a disaster in their community. Through CERT, residents can learn about disaster preparedness and receive training in basic disaster response skills such as fire safety, light search and rescue, and disaster medical operations.
Students are also provided with basic personal protective equipment for the training that they may retain upon completion of the course. This training does not require any physical strength or agility.
Who can take the CERT Training? Anyone who lives, works or plays in Fairfax County is eligible to take CERT training, all ages 16 and up, and all physical abilities are welcome.
Sign up now; next class starts on Nov. 7.
Next Class:Basic CERT Class – Green Acres/Fairfax City on Nov. 7, 12, 14, 19, 21; Dec. 3, 5, 10, 2019. Green Acres School/Center, 4401 Sideburn Road, Fairfax, Tuesdays and Thursdays, 6:30 – 10 p,m.
To register for the class, visit: https://volunteer.fairfaxcounty.gov/custom/1380/#/opp_details/185223