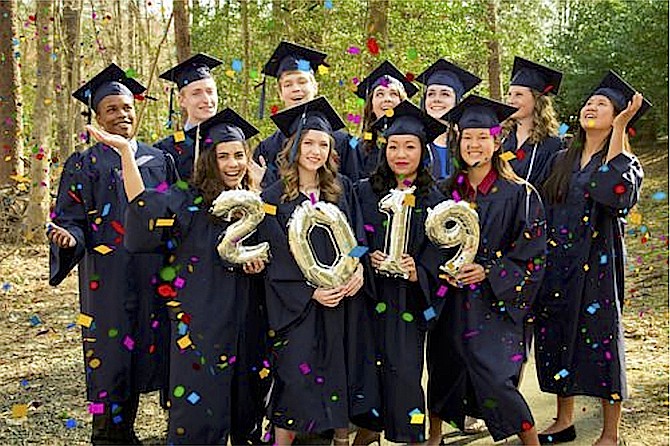 Cathy Stone, director of one of the major homeschool "co-ops" in the region, says that the biggest misconception she sees in homeschooling parents is the idea that you have to do everything yourself to be involved in your child's education. Her co-op, Harvester Teaching Services, hires teachers to instruct homeschooled students twice a week in their subject of expertise, striving to give parents the peace of mind that comes with their students learning from professionals while only meeting twice a week so as not to diminish the close supervision of the parent unique to homeschooling.
"When I was homeschooling my children, I realized I probably wasn't the most adequate teacher for certain subjects at a higher level," said Stone, mother of five. "Particularly with chemistry and biology, I knew I needed help. I really appreciated that HTS had the budget, equipment, and teachers I needed to get my children the proper class requirements I couldn't have given them myself."
Stone said there are many similar co-ops in the region, as the concept has become fairly popular here. While some co-ops are run by a mutual agreement that every parent will teach a class, HTS and other "drop-off" co-ops like it pay their instructors and do not expect parents to teach if they don't want to.
Stone has been involved in HTS since its founding in the early '90s. She assumed the position of director this summer.
"Since I became director, I've been looking around at other co-ops in the area asking myself what sets us apart," said Stone. "Now that homeschooling has become more prevalent there are a lot of co-ops in the area that offer high school classes, but, to my knowledge, HTS is the only one of its kind that offers classes at an elementary level."
HTS meets at Harvester Presbyterian Church in Burke. Along with elementary education, the co-op provides middle school and high school classes, nursery care, and a homeschooling mother's bible study on Tuesday mornings.
"There's an importance to socialization," said Stone. "In a co-op, your children can be with other children and you can be with other parents. It makes you feel not quite so much alone on this island of homeschooling."
Anne Waters, a mother of five in the Mount Vernon area, says the resources for homeschoolers in the region have met critical needs in her children's education.
"Obviously, the buck stops with you when you homeschool, both with the state and with your child's education," said Waters. "However, the many resources in this area encourage people who might not otherwise homeschool to do it. It can be daunting for a parent to have the prospect of teaching their children every single class, but by getting involved outside of the home you're put in the sweet spot of homeschooling without feeling like your student is being gypped because you're not a calculus expert or don't have the lab equipment.
STARS, another popular co-op meeting at The Foundry Church in Burke which boasted 116 students last year, focuses predominantly on high school education.
"High school is when external calendars become really important," said STARS director Victoria Rose. "Co-ops give students the real-world schedule and enforcement of deadlines that might be overly flexible in the home, while also providing community for battle-worn homeschooling parents."
Both STARS and HTS meet Tuesdays and Thursdays. While both co-ops celebrate the community, opportunity, and structure their programs contribute to a child's homeschooling experience, each clarified that the critical role parents play in their child's education at a co-op is what makes this experience different from that of a traditional school.
"Often parents worry co-ops will only replicate the school system they have chosen to step away from because they felt their student needed a more individually focused approach to education," said Rose. "We work specifically to not be a one-size-fits-all system, but rather to coach both the parents and the students on how to solve the problems or gaps in their homeschooling experience."
Waters said her family has primarily used HTS and another prominent co-op, Capitol Baptist, for core classes. Her children have also participated in extracurricular activities for homeschoolers in the region such as STOA (speech and debate), SPIRE (track team) and Fairfax Homeschool Sports (FHS.) She additionally recommends Northern Virginia Players for homeschooled thespians, Classical Conversations for homeschoolers looking for classical education, and Skye Chase Academy, a Catholic co-op in the Mount Vernon area.
"There are so many great opportunities in this region and so many educated people willing to teach — the options are endless," said Waters. "If you want to homeschool here, there's a way."
Details
Harvester Teaching Services: http://www.htslink.org
STARS: https://starsloveslearning.com
Other resources mentioned: https://www.thehomeschoolmom.com/homeschooling-in-virginia/homeschool-co-ops-academic-enrichment-classes/