Fairfax County Etiquette Classes:
"Young people will be educated, but without proper social skills they will not be able to present themselves properly." — Henryette Neal, etiquette instructor.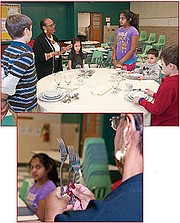 On a sunny, fall day a group of 10-year-old children sit around an antique cherry wood table in Arlington. The boys are wearing navy blazers, pressed khakis and shiny loafers. The girls have donned their most festive dresses, nude stockings and have grosgrain ribbons in their neatly combed hair. They've arrived at the home for a lesson in etiquette. Most of them would rather be some place else.
"I have to leave early for a soccer game," said Jimmy, who has a hard time disguising his glee.
In an era when it's commonplace to order pizza on a smartphone and coordinate play dates by text, old-fashioned etiquette can appear obsolete. A recent survey of teachers shows that 73 percent of instructors believe that students are less polite than when the teachers themselves were students. In the age of high-tech conveniences, children can become over scheduled and under socialized, which has led to an uptick in the number of parents who are enrolling their children in etiquette classes, say protocol instructors.
"Parents have a tremendous interest in etiquette classes because so many parents realize that they don't have that knowledge themselves," said Dorothea Johnson, who founded the Protocol School of Washington and is the author of the book "Modern Manners: Tools to Take You to the Top," which she co-authored with her granddaughter actress Liv Tyler.
"I think most parents know that good manners and etiquette will be important to their [children's] future," added Henryette Neal who teaches etiquette classes for children through the Fairfax County Park Authority. "Young people will be educated, but without proper social skills they will not be able to present themselves properly." Neal is also the owner of owner of Steppin Out Charm and Imaging Studio.
The result of fast-paced lifestyles combined with overloaded schedules is a generation of children who place more value on social media savvy than on knowledge of social graces. Family dinners are replaced by fast food, says one parent. "Who needs good manners to gobble down a slice of pizza," said Carole Mincey of Alexandria whose 14-year-old daughter and 11-year-old son have taken etiquette and ballroom dance from Simpson's Classes, one of the area's invitation-only etiquette schools. "Because everyone is so busy and technology is so advanced, reality television shows are setting standards of behavior and handwritten thank you notes have been replaced by emails and even texts."
GOOD MANNERS are as important to a child's future success as academics, says another parent. "I feel like if people know what do to do in social situations it empowers them," said Sarah Henry of Chevy Chase, mother of a 10-year-old daughter and a 12-year-old son. "If you're unsure of what to do, it can make you feel intimidated. So it's all about empowering children with knowledge. And it's good for them to be exposed to proper etiquette in case they're not getting it at home. And if they are getting it at home, etiquette classes can reinforce it."
Interactive class sessions help keep their children engaged in the etiquette lessons. "The key is to keep the children occupied," said Johnson. "For example, when teaching proper introductions, I would call two children up to the front of the room and have them introduce themselves to each other."
In addition to learning such common courtesies such as saying "Please," "Thank you" and "You're welcome," children learn to write thank-you notes and introduce themselves to others by making direct eye contact and offering a firm handshake.
Henry says that in a class that she coordinated for her daughter's Girl Scout troop, part of the curriculum included having the children form a receiving line with parents where they practiced handshakes and eye contact.
"We also printed proper table setting samples online and give the girls plastic forks, spoons, knives, napkins and a copy of the place setting," said Henry. "We talked about the placement of the utensils, how to hold a knife and fork properly. One of my pet peeves is watching people hold a knife like it's a stick."
These are good life lessons, says Neal. "Etiquette classes are important because people still need to be respectful of others, and it starts with our children," she said. "A simple please and thank you is important."