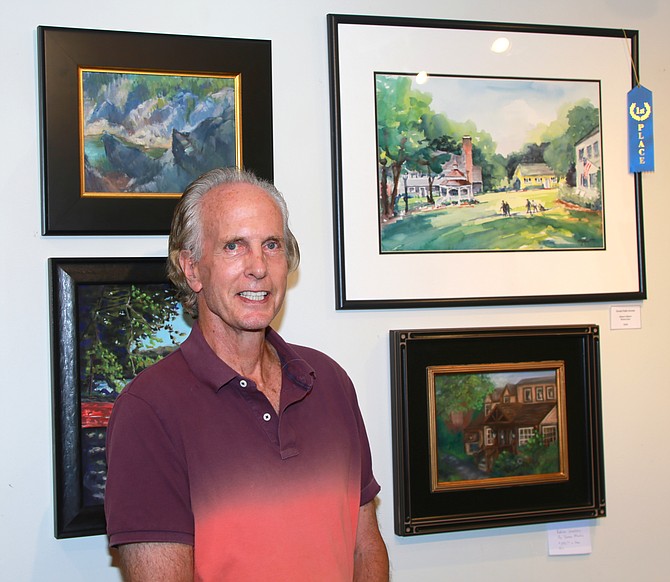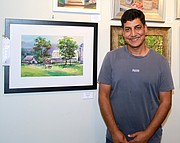 Last week, the fifth Annual Plein Air Competition took place in the Arts of Great Falls Gallery and picturesque surroundings. The artists were tasked to create original artwork from scratch in four days. More than 20 artists visited Great Falls to paint, draw, and sketch its beauty and serenity.
It was a kind of an Olympic Games for painters. They demonstrated remarkable stylistic creativity, versatility, and knowledge of art.
The locations were announced by artists upfront, so the public could join them as they created out in the open air, "en plein air," in Great Falls Park, Riverbend Park, Colvin Run Mill and Great Falls Village Center, as well as private gardens and historic farms. On Sunday the works were brought inside to be showcased in the gallery.
"This year, 22 artists participated in our contest, and we can have a maximum of 25," Julie Casso, the executive director of The Arts of Great Falls said. "Each artist can submit only two paintings because our gallery space holds about 50 paintings maximum. All of the works will be in the gallery until Sept. 30."
Bethanne Kinsella Cople, plein air and studio landscape artist from Alexandria, judged the competition: "This is actually my very first time here. I'm going to be teaching a workshop at the end of the month at the Great Falls Studios."
After thoroughly reviewing all the submissions, the competition jury selected three winners.
Robert Gilbert and his "Great Falls Green" won first place and a monetary award of $500.
"I've thought that it is about the mastery of the medium of watercolor," Cople said about Gilbert's piece. "Watercolor is not easy. He has got delicious, beautiful washes. In addition, the composition is strong. It is very impressionistic and beautifully done."
Second place was awarded to Jill Banks and her "Farm Flock." She was also awarded the People's Choice Award.
"Vertical and narrow composition is not an easy format," Cople said. "She did a beautiful job. She has got some really nice warm colors in the foreground that help bring the roosters in the foreground in front and then everything else goes into depth in the painting".
The third place went to Rajendra K.C. His original watercolor painting titled "Turner Farm" showcases the peace and tranquillity of the countryside.

"The beautiful artist's interpretation!" Cople said of his work.
Celebrate Great Falls Foundation provided cash prizes include $500 for first place, $250 for second place, and $150 for third place, as well as the $150 for the People's Choice award. Because of two artists got the same number of People's Choice votes, the jury decided to award both Lynne Cothern with her "Studio" and Jill Banks with her "Farm Flock".
The exhibition is up all month in Arts of Great Falls Gallery. The Gallery welcomes visitors to view the exhibition and buy the paintings.