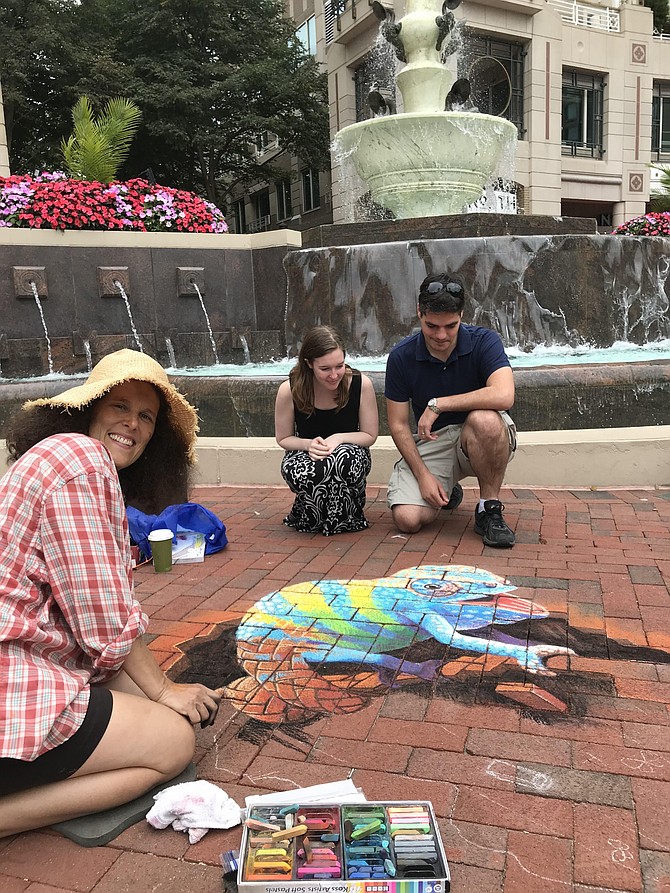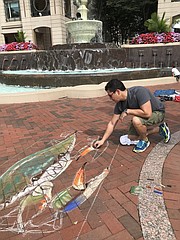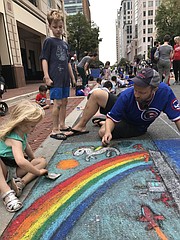 The iconic Public Art Reston sculpture, Mercury Fountain by Saint Clair Cemin, served as the backdrop for the sixth annual Chalk Fest at Reston Town Center on Saturday, Sept. 14. Presented by Public Art Reston in partnership with Reston Town Center, according to Anne Delaney, Executive Director of Public Art Reston, the Festival proved once again to be among the community's most photogenic events.
Participants registered either online or onsite in one of three categories: Professional Artists – skilled artists who had received compensation for artwork; Amateur Artists – Teens and adults with art experience and Families and kids – Families and children ages 1-12. Depending on their registered category, participants received a given sized box of chalk pastels, goodie bag and marked space measuring 4' by 8' to 4' by 4'. Presenters made available a limited number of larger squares and custom sponsor squares. Chalk Fest prizes ranged from Professional Artists: 1st Place, $800; to the Audience Choice Award: 3rd Place, $100.
CHALK FEST attracted a diverse and motivated crowd who created their artwork on the brick plaza at Fountain Square and all along Market Street. Their masterpieces gave new meaning to RTC's Facebook page story as "an urban destination for shopping, playing, gathering, and working in the heart of Reston." Add chalking.
Professional artist Francis Deppner of Reston worked on his Maryland Blue Crab. "The only time I've done chalk art is here at this Festival. The work is homage to where I'm from. I don't worry about how it looks. It'll all turn out in the end."
Andrea Castaneda, a professional large-scale muralist, relocated to the Town of Herndon, said, "It's interesting for me because I can blend colors into layers. I don't care where the blocks are. I need to use the medium."
Artist Penny Hauffe, commissioned to create the #Reimagine mural on Freedom Drive in front of the Green Garage, disagreed with Castaneda. The placement of the bricks did matter to her and was essential in her chalk art. "I love to include the herringbone brick pattern at Fountain Square into my 3-D chalk art," said Hauffe, looking down at her wide-eyed chameleon. "He is transforming into the brickwork, starting with his tail." Beside Hauffe, Beth Semel and Max Duhe of Alexandria admired her work. Duhe exclaimed, "Kids to adults to professionals are here. We are impressed."
Out on Market Street, the Cryer family of Reston, dad, Scott and children Madeline, 4, and Nathan, 7, chalked together creating a whimsical work incorporating each one's independent design into a unified whole. "This was a family affair," said Scott. "Nathan came up with the aircraft carrier and Madeline the unicorn."
AT THE OTHER END of Market Street, Mirabelle Dietsch, 5, of Reston merrily blended her chalk lines with the carpet square provided in the Public Art Reston goodie bag. Not one for chatting, Mirabelle let her dad Michael do the talking for her. "We heard about the Festival on the RTC Facebook page. It's a great day for it. Mirabelle is doing a forest; it's daytime, and the tiger is out."
Back up at Fountain Square, Phil Erickson, husband to Penny Hauffe, worked on his chalk mural, "Kansas." Familiar with chalk festivals, Erickson admitted that his wife usually beat him and won but he enjoyed the time spent with her. Describing how to add depth to chalk murals, Erickson said, "The whole idea is to make it appear you can walk into the image. You create a vanishing point, so everything moves in the direction to give depth." Looking down at his unfinished 3-D mural, Erickson said "I'm always trying to find a way to step out of the real world into another one."
Award Winners
Professional Artist
1st Place #3 – Penny Hauffe
2nd Place #1 – Ben Morse
3rd Place #9 – Chelsea Ritter-Soronen
Amateur Artist
1st Place #118 – Jenn Griffith
2nd Place #112 – Mia Earls
3rd Place #106 – Wendy Viana & Shawna Hession
Families & Kids
1st Place #206 – Maggie Ryan
2nd Place #335 – Zachary Ulman
3rd Place #301 – Abbey Nichols
Audience Choice Award
1st Place #10 – Francis Deppner
2nd Place #335 – Zachary Ulman
3rd Place #304 – Pranamya Jindal
Visit facebook.com/PublicArtReston/photos to view winning works.