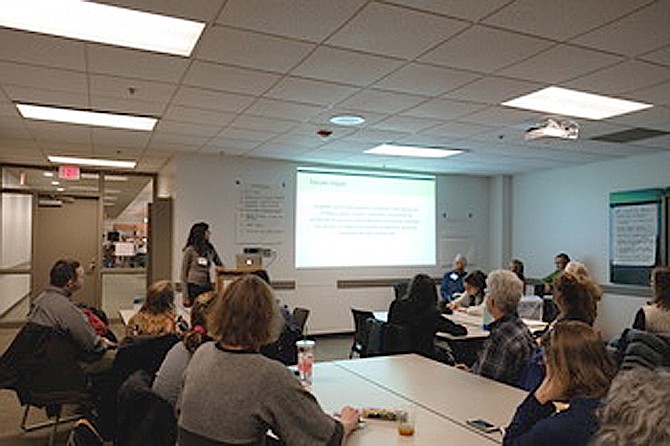 You've heard of the 3 Rs? Reading, wRiting, and aRithmetic? Some students and teachers at Arlington Public Schools are learning the Four Rs with their ABCs: and the students are paying rapt attention.
Before the pandemic shut down group activities, March 24 was to be the follow-up meeting for an action group that met last year to gauge public interest in pursuing the 4 Rs: Reduce, Reuse, Recycle, and Rot.
The November, 2019 meeting was opened by Elenor Hodges, executive director, EcoAction Arlington; Allan Shnerson, R4 Action Group of EcoAction Arlington; and Mimi Shah, R4 Action Group. All three activists believe teaching children the 4Rs is the secret to success in the effort to educate all Arlingtonians. Children have a vested interest in sustainability and love telling their parents what they should do.
Three things were immediately apparent from the panel: there is a lot going on; it is at the initiative of volunteers, students and teachers; and we could be doing a lot more. The panel on current waste management practices included Laura Watchman, Yorktown HS parent and also on APS Sustainability Committee; Katherine Williams and Kristin Wine, Discovery Elementary School teachers; Mimi Shah, Nottingham ES parent and R4 Action Group member; and Susan Spranger, Fleet ES teacher.
What is being done: Liz Rugaber, Taylor Elementary parent & PTA President, told the group that about 8-9 gallons/day of liquid (mostly milk, some juice, less water) is separately collected and then poured down the cafeteria drain each lunchtime. That is 200 gallons a month diverted from the trash. Students just divert liquid from the trash so it goes down the drain instead.
This is not a universal procedure at APS, even though diverting liquid from the cafeteria trash/recycling bins, and hence reducing their weight, represents a cost savings to APS. The practice at Taylor also teaches kids to "think before you toss," a lesson lost elsewhere, because there is no overall APS policy to make this practice universal, according to R4 activists. Efforts to get APS leadership more interested have not been successful.
Mimi Shah, Green Team leader at Nottingham ES, noted her R4 Action Group took the lead, surveying a sample of students at all grade levels, conducting a waste audit, and meeting with key constituent groups like the school's Planet Partners Club, faculty, the custodial staff, the student government association and holding lunch hour discussions on recycling with all grade levels. They then made major changes in what kids were doing in the lunchroom.
Single use plastic water bottles, plastic straws, plastic wrapped utensils, and plastic condiment packets were traded in for more eco-friendly dispensers. Waste was reduced when uneaten food was not tossed indiscriminately, and the students got to see the food bus go to Arlington's Food Assistance Center.
Packing lunches from home with food the students like was part of the effort. But even packed lunches can come with waste. Katherine Williams and Kristin Wine, Discovery Elementary School teachers said, "Waste free lunch is hard. Change is hard. You have to change habits." Williams and Wine said they sent out a parent newsletter to help parents packing lunches make them more eco-friendly by packing cloth napkins, using "tetracycle" boxes not plastic, avoid "go go squeeze" plastics, and using healthy alternatives to packaged food, like fresh fruit. The results at all three elementary schools were noticeable, as well as the compostable Wednesdays at Yorktown High School.

In November, Eco-Action announced the Resource Bank (Resources for School Sustainability) as being available to School parents, teachers, etc. Things like food waste; cafeteria recycling programs; Green Team activities; posters, flyers, signs; and quizzes are in the bank for use by schools that want to join the program. The resource bank hopes to promote sharing and foster some uniformity across the schools. Right now, the schools function as silos, without a lot of communication or sharing across schools.
For more information, see: www.ecoactionarlington.org
More like this story