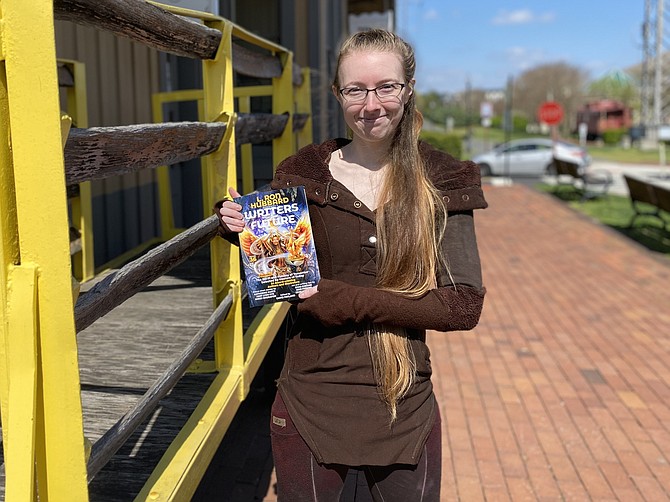 For science fiction and fantasy readers, Leah Ning of Herndon may be their next favorite author. A panel of professional authors recognized Ning as one of twelve "writer winners" for her entry, "Yellow and Pink" in this year's international competition, the L. Ron Hubbard's Writers of the Future Contest.
Ning is a Boeing programmer by day and author by night. As an amateur, she entered the Contest, "...an opportunity for new writers of science fiction and fantasy to have their work judged by some of the masters in the field and discovered by a wide audience," according to the company's website. In addition to the Writers of the Future Contest, a second contest, Illustrators of the Future, was also held with twelve winners adjudicated by greats in the arts. The winning authors, along with twelve winning illustrators are featured in "L. Ron Hubbard Presents Writers of the Future Volume 36," released April 7, 2020. Awardees are from across the globe, the United States, Australia, Turkey, Vietnam, and more.

ACCORDING TO NING, although she wrote as a student, when she entered the workforce, she stopped due to time constraints. However, in the summer of 2019, Ning began again. "I never wrote a short story before...I sent my first one into the Contest, and of course, it got summarily rejected... It was terrible and deserved," she said.
Ning knew this contest was different and she persevered. "They only allow amateur authors to enter. You are not out there competing against likes of Stephen King... It's nice to have a contest like that because there's not a whole lot of stuff out there for new writers...Being a new writer is hard, man. Normally you submit to magazines, and you're competing against everybody at the pro level," she said.
Ning had other reasons for entering the Contest. "They have a tiered rejection system: Flat, Honorable Mention, Silver Honorable Mention, Semifinalist, Finalist and Winner... It helps you know where you are in terms of whether you're getting there for professional writing... Dave Farland is a New York Times best-selling author... He will give semifinalists a critique on their story and tell someone, 'Hey, this is why I didn't make you a finalist.'" Ning added that the contest runs quarterly. "Basically, it runs continuously," she said. "And it has no entry fees and entrants retain all publication rights."
Ning provided a glimpse, a one-line trailer for her winning story, "Yellow and Pink." Her first sentence reads: "How many times?" the dying man whispered. People who read the story tell Ning that it pulled them in right away and took them on an emotional ride.
Asked what she does to overcome the inevitable "writer's block," Ning said, "I don't sit there and stare at the blank page. That's stressful... Stress is crap for your creative process...Do something nice. Take a walk in nature or a hot shower. Drive around randomly... It's a lot more helpful for coming up with an idea... with an opening. Then, when I sit down in front of a blank page, I already know what I want to write."
DUE TO COVID-19, for Ning and other winners, the Annual Awards Ceremony in Hollywood and the intensive week of learning from established writers, artists and professionals in the publishing world is on hold.
A full-color illustration accompanies each story in the 450-page anthology. Award-winning authors and Contest judges: Katherine Kurts (Deryni series), Jody Lynn Nye ("The Phoenix's Peace" based on Volume 36 cover art), and Nnedi Okorafor (The Binti Trilogy), and the Contest founder, L. Hubbard provided bonus stories.
Scrawl Books in Reston Town Center confirmed they would offer home delivery or curbside pickup for "L. Ron Hubbard Presents Writers of the Future Volume 36."